Michelle Browne: 'out on the sea was a boat full of people singing' and other stories
Thursday 3 March – Saturday 16 April 2011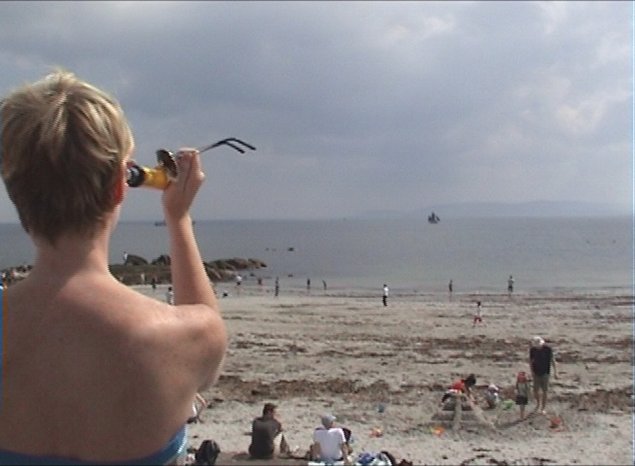 Michelle Browne's first solo show presents a series of public performative works made over the last four years. Browne has become synonymous with public event based work, and here she looks at how to translate these works to the gallery setting. Presenting past performance work is an oft-sited challenge and Browne grapples with the inherent difficulty in documenting temporary and performative artwork.
For this show she creates a series of new works by revisiting a variety of public performance projects, to see how the memory of these events lives on to the present. Looking back on A Life on The Ocean Wave (2009), Border Border (2008) and the Nama Taxi, part of Mind The Gap a participative public art project (2009), viewers tell their version of the story. Created through a series of interviews with these witnesses to the event, Browne tries to determine the experiential legacy of this work. Looking at the process of Mind The Gap we are presented with the development of ideas with a group over time. A publication with interviews outlines their involvement and a live phone line offer the chance to put your own questions to a participant; each element working to piece together an event that has past.
In conjunction with this, Browne has curated a group exhibition of work dealing with the challenges of documentation featuring Amanda Coogan/Simon Keogh, Trace Collective, The Performance Collective, Susanne Bosch and Ella Burke. Each Artist/collective looks at alternative ways to re present work, through text, sound, images, to catch the fugitive nature of the performative.
Thursday 3 March – Saturday 16 April 2011
Foley Street, Dublin 1
Telephone: +353 1 222 7850
Opening hours / start times:
Monday to Friday 10:00am – 6:00pm. We are currently closed at the weekend. Bookings are not necessary.
Admission / price: Free