Micheál O'Connell ¦ Mocksim: System Interference
Tuesday 22 August – Wednesday 4 October 2023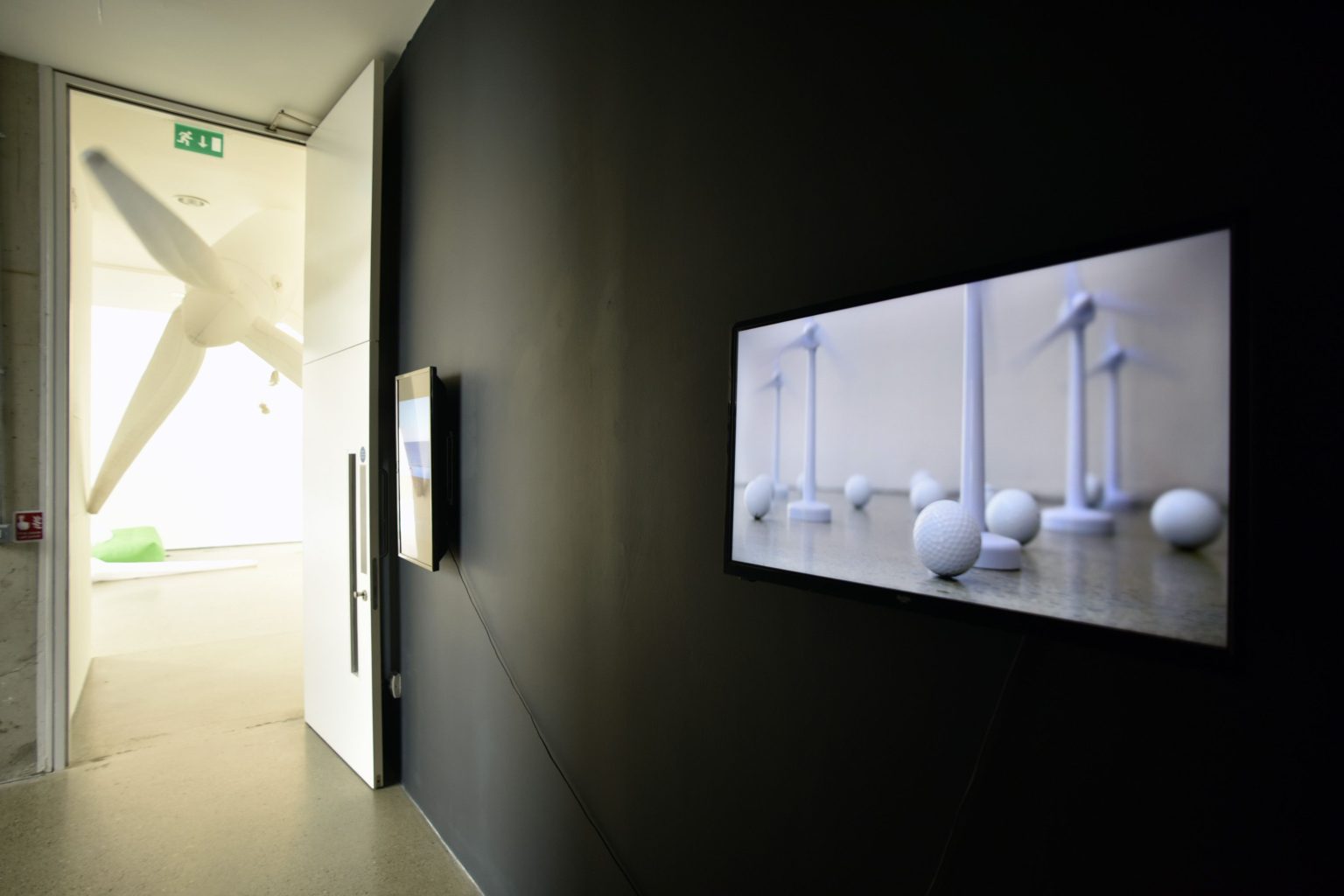 System Interference will open in the lower gallery on 26 August at 2pm with an 'in conversation' event with historian Michael Fortune.
In partnership with Uillinn – West Cork Arts Centre, Wexford Arts Centre is delighted to host System Interference by Micheál O'Connell a.k.a. Mocksim.  The artist's practice involves 'interference' with everyday functional processes and technologies including computational networks, road systems, windfarms, golf courses, and the unusual sport of road bowling. The work touches on environmental concerns, the democracy or lack of it in decision-making, and what is given priority and what is not.  A range of works including printed material, sound recordings, and Micheál's signature 'simupoems' – short moving image pieces which play in loop mode – will be included in the exhibition. In addition, interactive elements and ways in which the exhibition might reach beyond the gallery will be considered.
In the past, O'Connell's work has been presented in project spaces and established locations such as Matt's Gallery and The Whitechapel, London, UK, Lighthouse, Brighton, UK, and Wandesford Quay Gallery, Cork.  Contra-Invention, a critically acclaimed exhibition of utilitarian photographs (photographs captured by traffic wardens as proof of parking violation in many areas) had been invited to Les Rencontres Internationales de la Photographie d'Arles and nominated for the Deutsche Börse Photography Prize.
Michael Fortune completed his BA in Fine Art, specialising in video and performance at Limerick School of Art and Design and his MA in Film and Screenwriting at Dún Laoghaire School of Film. Working predominantly in film and photography, much of his practice revolves around the collection of material – material which he generates out of the relationships and experiences he develops with the people he encounters.
Micheál will host an informal gallery tour on Culture night 2023, Friday 22 September with late night gallery opening from 7pm.
Micheál will host an artist's talk on Tuesday 3 October in conjunction with South East Technological University in the theatre at Wexford Arts Centre.
Art, Misuse and Technology: Micheál O'Connell's 'System Interference' by John Roberts, is available at Wexford Arts Centre and from our website at €15.
Image: Installation shot Tomasz, M. Inflatable wind Turbine
Tuesday 22 August – Wednesday 4 October 2023
Cornmarket
Wexford
Telephone: +353 53 9123764
Opening hours / start times:
Tuesday to Saturday 10am – 5pm
Admission / price: Free