Micheal Farrell: Selected Works 1963 – 1997
Saturday 18 January – Saturday 8 February 2014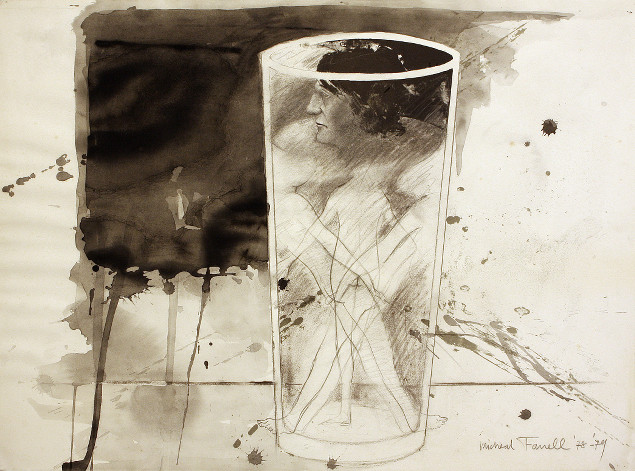 Opening Reception Friday 17 January, 6 – 8pm
Taylor Galleries is very pleased to present Selected Works 1963 – 1997, an exhibition of prints, paintings and works on paper by Micheal Farrell (1940 – 2000) that takes place at the gallery from 18 January to 8 February 2014. The show offers a rare opportunity to see selected pieces from Micheal's extensive body of works on paper alongside some lesser-spotted paintings and lithographs, and it coincides with the major retrospective exhibition, The Work of MichealFarrell, that is currently travelling from Solstice Arts Centre, Meath to Crawford Art Gallery, Cork, the Royal Hibernian Academy, Dublin and Centre Culturel Irlandais, Paris.
It is perhaps a strange fact that Micheal Farrell's lengthy association with Taylor Galleries pre-dates the gallery itself – he was inherited, so to speak, from Leo Smith's Dawson Gallery following Smith's death in 1977 when his assistant, John Taylor, established Taylor Galleries at 6 Dawson Street the following year.
In the mid-1960s Micheal was riding on a wave of success that defined the early part of his career – travelling, teaching, representing Ireland at international exhibitions, winning numerous high-profile awards and prizes – and he had his first solo exhibition at the Dawson Gallery in 1966. Pitching up at the gallery in a denim suit, Micheal charmed Leo Smith, just as he charmed everyone else he came into contact with, and he went on to have thirteen solo exhibitions with the Dawson Gallery and Taylor Galleries between that first exhibition in 1966 and his last, in 1998, less than two years before his lost his long fight against cancer.
Micheal bore his illness as he did all life's trials and tribulations (and with his infamous knack for putting his foot in things, these were, for Micheal, rather numerous) – with humour, courage and grace; characteristics that defined both Micheal the man and Micheal the artist. A prodigious and prolific talent, he worked with a rare dedication and confidence while constantly challenging himself and re-inventing his work. From very early representational pieces like the Bird series his work evolved through the ordered, geometrical abstraction of the Thourables Wake and Cairn series, with their references to Celtic interlacing and imagery, to the triangulation of the Sandycove and the joyful abandon of the iconic Pressé series. From there he moved away from abstract formalism to develop more experimental figurative works (the Études, Madonna Irlanda, self-portraits, Bloody Sunday and Famine series)that showcased his skills as a draughtsman and colourist while also highlighting his concern with issues surrounding Irish identity, politics, culture and history.
Adopting the role of the Irish émigré in the grand tradition of Joyce, whose work he loved so much, Micheal settled in France in 1971 with his first wife Patricia Vampleau and their sons, and made some of his best work in the small village of Cardet where he lived for many years with his second wife, Meg Early. Although it may be a cliché, to all intents and purposes Micheal was larger-than-life; an endearing, gregarious and charming man who was passionate about all life had to offer in terms of work and play, and whose enthusiasm for both was infectious.
Taylor Galleries is delighted that Micheal's work has been honoured with a major retrospective exhibition and it is fitting that it, like Michael, is going on tour. Over the years Micheal sent countless letters, notes and postcards to the gallery (many of them one-liners addressed variously, and with his trademark wit, to 'Les Taylors', 'Monsieur Pat/John' or simply 'Taylor Bros') from a variety of far-flung places identified in his sign-offs as being from 'Micheal à Paris', 'Micheal à Munich', 'Micheal à Sporro', 'Micheal à Cardet'. But despite this globetrotting, his first and most enduring love was of his country, with all its infuriating quirks and foibles, and in many ways his work can be read as an on-going pæn to the Ireland he left behind but which never left him. The gallery is privileged to have had such a long relationship with Micheal Farrell and his work and is truly honoured to be able to share in the on-going celebration of his legacy.
Saturday 18 January – Saturday 8 February 2014
16 Kildare Street, Dublin 2
Telephone: +353 1 676 6055
Opening hours / start times:
Monday 10:30 - 17:30
Tuesday 10:30 - 17:30
Wednesday 10:30 - 17:30
Thursday 10:30 - 17:30
Friday 10:30 - 17:30
Saturday 11:00 - 15:00
Admission / price: Free