Michael Kempson: Child's Play
Thursday 28 June – Saturday 25 August 2018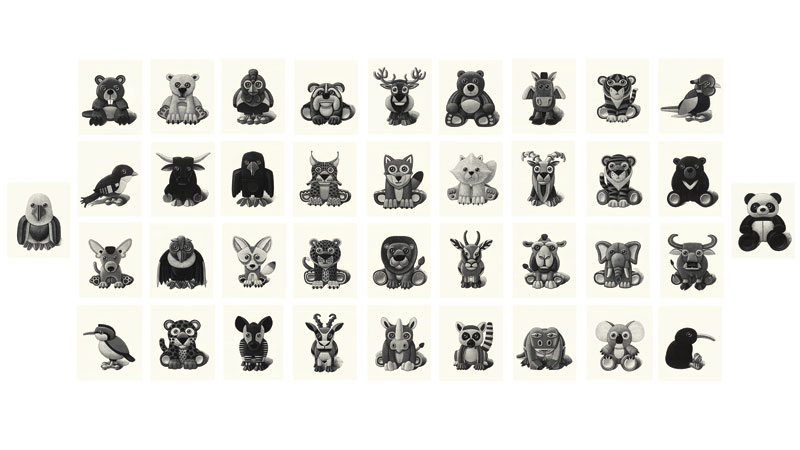 Garter Lane Arts Centre is delighted to present Child's Play, an exhibition by Australian artist Michael Kempson.
Michael Kempson has been exhibiting since 1983, with a total of 28 one-person exhibitions and over 200 group exhibitions, including; Michael Kempson: Work and Play at Song Ya Feng Art Centre, Beijing (2017); Kyoto Hanga 2014: Australia and Japan at the Kyoto Municipal Museum, Japan (2014) and a major exhibition Seen/Unseen – Michael Kempson / A Survey of Prints at V.M. Art Gallery, Karachi, Pakistan (2010). He was a commissioned artist for the Print Council of Australia Member's Print (1994, 2001 & 2014). He also has a large curatorial practice.
As well as being a practising artist, Michael Kempson is the Convenor of Printmaking Studies and Director of Cicada Press at the University of New South Wales Art & Design in Sydney, Australia. He has held a number of other prominent positions including, International Member at Large for the US based Southern Graphics Council International (2014-2016). He also initiates printmaking projects in the Asia-Pacific, in his position as Director of Cicada Press, working with over 200 significant Australian and international artists, resulting in 56 curated exhibitions. Cicada Press Workshop is an educationally focused custom printing model, involving students, with an emphasis on open dialogue, broad relationships with the artistic community and informal teaching processes.
ARTIST'S STATEMENT
At this point in my life, as a new grandfather, I have the pleasure of observing the often-brutal machinations of child's play and in so doing I'm thinking more about the planet our young will inherit. Since a residency at Sydney's majestic Taronga Zoo, I've preferred to deploy motifs inspired by the toys sold in their gift shop – cheap trinkets produced in the vast manufacturing hubs of China. The images have coalesced into arrangements of invented furry creatures that represent the designated animals of nation states. These compositions act as a metaphor for international competition, global and regional influence, and as a consequence power and cold conflict.
Thursday 28 June – Saturday 25 August 2018
O'Connell Street
Waterford
Telephone: +353 51 855038
Opening hours / start times:
Tuesday 11:00 - 17:30
Wednesday 11:00 - 17:30
Thursday 11:00 - 17:30
Friday 11:00 - 17:30
Saturday 11:00 - 17:30
Admission / price: As per event