Michael Kane: Recent Paintings
Saturday 7 March – Sunday 19 April 2015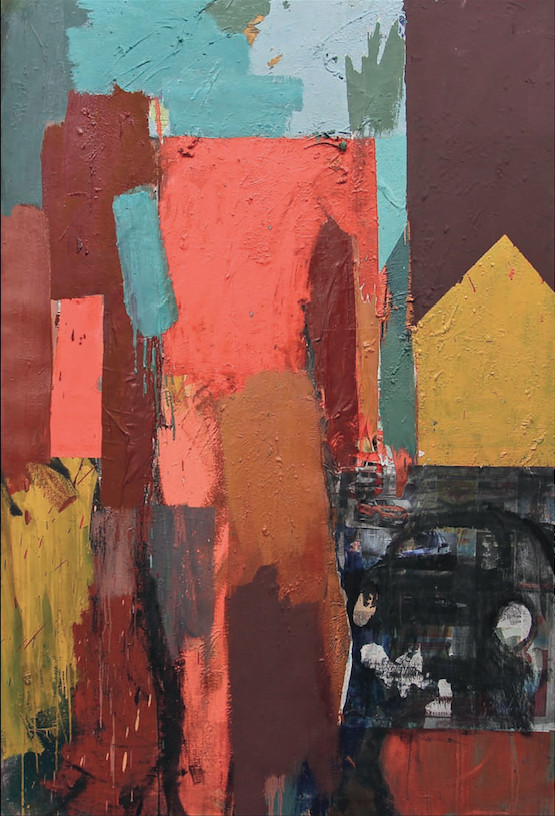 Opening Reception Saturday 7 March, 2:30 – 4:30pm
The Butler Gallery is delighted to present an exhibition of Recent Paintings by the acclaimed Irish artist Michael Kane. Each painting showcases Kane's mature artistic style that, over a prolific period of five decades, has fully developed into a unique, personal visual language of colour, line and form. This body of work reveals the continued energy and passion of an artist keenly engaged with the physicality of making pictures and the pure joy of putting paint to canvas. Although originally from Wicklow, the vibrant atmosphere of Dublin where Kane has resided for most of his life, its distinct geometries and the character of its people, can be astutely felt in these exceptional paintings.
Kane pares down gesture and strips away overt descriptive detail by reducing recognizable elements. Nonetheless, the paintings handsomely convey expressive intimations of figures, buildings and cars. In some of the paintings, rough black lines robustly identify sturdy standing figures that almost fill the picture plane and command a strong presence. All of the paintings incorporate large blocks of vibrant colour that often include areas of newsprint collage, visibly revealing the layering process at work. Drips of paint slide down the pictures with daubs of impasto adding weight to the rich surface of these paintings.
These paintings are wonderfully self-contained works of great ability and mastery of craft. Keys to the past reside in every new body of work and these recent paintings, punctuated with distinct twists and turns, are no exception. They are uniquely exquisite.
Michael Kane was born in Wicklow in 1935 but lives and works in Dublin. Kane studied at the National College of Art and Design (1956-59) and the Graphic Print Studio (1961-63). He is a central figure in the history of Irish Modernism, was one of the organisers of the annual Independent Artists' exhibition and co-founder of the Project Arts Centre in the 1960s. He was also editor of the art and sociopolitical journal Structure in the 1970s. Kane is one of the earliest members of Aosdána. His work is included in many prestigious private and public collections. Michael Kane is represented by the Rubicon Gallery, Dublin. www.rubicongallery.ie
* This exhibition will travel to Rubicon Projects at the Octagonal Room, Irish Georgian Society, City Assembly House, 58 South William St, Dublin 2. (30 April – 16 May). Tel: +353 1 670 8055.
With thanks to the Arts Council for essential annual funding and to the OPW, Department of Social Protection, The Heritage Council and Kilkenny Local Authorities for additional assistance.
Image: Michael Kane: Broken Dummy in a Car Park, oil, acrylic & collage on canvas, 182 x 122 cm, 2015
Saturday 7 March – Sunday 19 April 2015
Kilkenny Castle
Kilkenny
Telephone: +353 56 7761106
Admission / price: Free
Closed 13:00 - 14:00 until March.