Michael Holly: The Parish
Saturday 2 April – Thursday 12 May 2022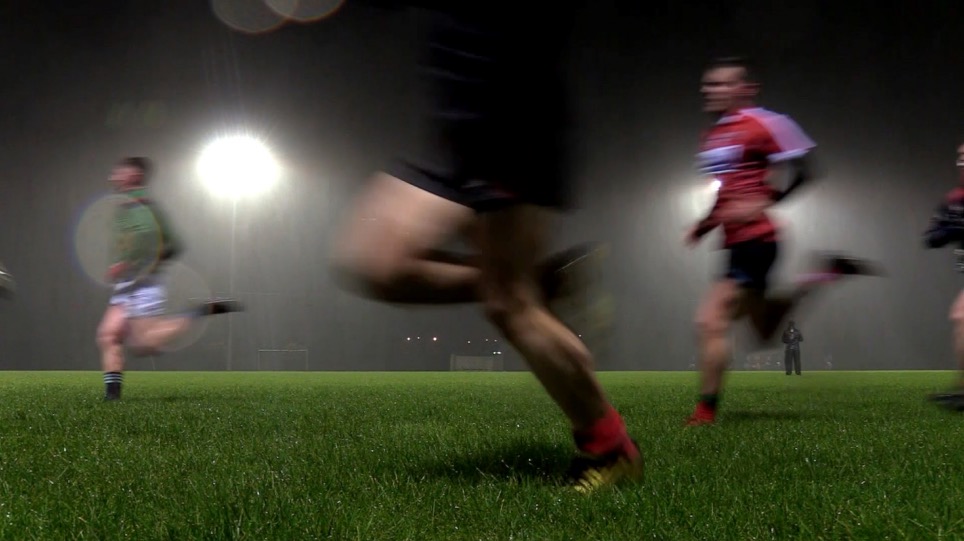 ――― In venue ―――
Since early 2019 Michael Holly has been closely interacting with the regular activities of Clonakilty GAA club, recording footage and sound using principles of ethnographic/ observational filmmaking. The footage and sound aims to encompass and represent the scope of a GAA club as a community organisation, and shows a range of activities, including sporting activities (training, games etc.), social events, fundraising events, a funeral, award ceremonies, religious services etc. From early 2020 he focused on the Ladies Football Team and continued interacting with the Club and conducting interviews as restrictions allowed throughout Covid19.
The exhibition will have two elements: a video and sound installation – exploring the potential of the contemporary art installation as a space for subjective, embodied experience of non-fiction film or video, and a discursive or dialogic space to facilitate further discussions with members of Clonakilty GAA and between other members of the community. These sessions will also be filmed, edited and screened in the same space in the following days. A website will be prepared in early 2022 containing a matrix of the various visual, sonic and research elements of the exhibition. The exhibition will be an opportunity to engage with hard-to-reach sectors of our rural community.
Michael Holly has developed a series of observational and discursive videos to be exhibited at Uillinn, West Cork Arts Centre. A programme of talks and discussions will take place around the exhibition. Michael Holly is an Irish Research Council funded PhD candidate in Film & Screen Media at University College Cork, where he is developing a practice-based study on participatory documentary filmmaking. Michael has exhibited widely as a video, sound and installation artist, in parafictional and documentary investigations into cultural, national and local identities. His research interests focus on the intersection of contemporary art and non-fiction film and new technologies and strategies in participatory filmmaking.
WCAC acknowledges the financial support of Arts Council Ireland and Cork County Council in making these exhibitions possible.
Saturday 2 April – Thursday 12 May 2022
Skibbereen, Co Cork
Telephone: +353 28 22090
Opening hours / start times:
Monday to Saturday, 10am to 4:30pm
Admission / price: Free