Michael Cullen: Tír na nÓg
Friday 13 April – Saturday 5 May 2018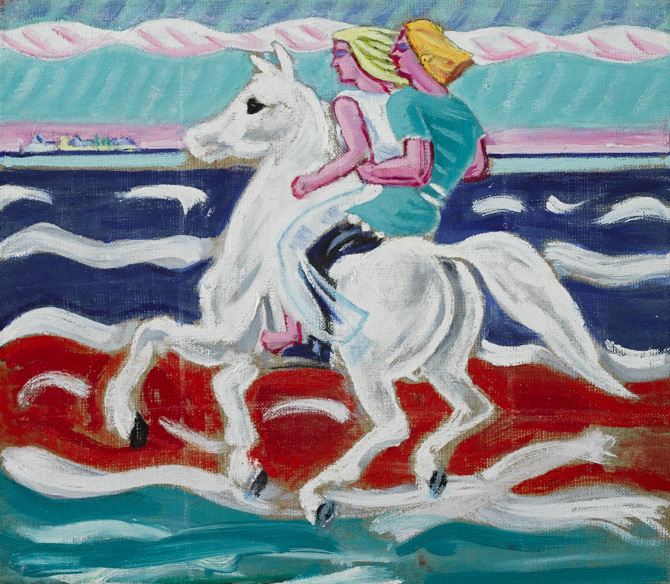 This exhibition of recent work focuses not only on the titular story of the land of eternal youth familiar to many from childhood fairytales learned at school and told at bedtime, but encompasses the whole romantic, strange, bloody, dramatic and frequently bizzare panoply of Celtic myths and legends as recounted in the three best-known series of stories of pre-Christian Ireland: the Mythological, Ulster and Fenian Cycles.
Alongside Niamh and Oisín and their white steed, Michael Cullen brings to life in his own idiosyncratic style tales of The Salmon of Knowledge, The Cattle-Raid of Cooley, The Children of Lír and Deirdre of the Sorrows in a collection of paintings that pulsates with vibrant colour. Incorporating subtle references to the canon of art history – a hint of de Chirico here, a little Velásquez or Poussin there – the work conflates past and present, bringing the adventures of Celtic demi-gods and mortal heroes screeching into the twenty-first century, reminding us that stories matter now as much as ever, perhaps even more so.
Born in Wicklow in 1946, Michael Cullen studied painting at the Central School of Art and Design, London and the National College of Art and Design, Dublin. The recipient of several major awards and bursaries, he is a member of Aosdána and the Royal Hibernian Academy and has held numerous solo shows and participated in many group exhibitions both nationally and internationally. His work is included in various notable private collections and is also represented in the public collections of the National Gallery of Ireland; Dublin City Gallery The Hugh Lane; IMMA; The Arts Council; The Ulster Museum, Belfast; Arts Council of Northern Ireland (ACNI); and the Berlin Senate; among others.
Friday 13 April – Saturday 5 May 2018
16 Kildare Street, Dublin 2
Telephone: +353 1 676 6055
Opening hours / start times:
Monday 10:30 - 17:30
Tuesday 10:30 - 17:30
Wednesday 10:30 - 17:30
Thursday 10:30 - 17:30
Friday 10:30 - 17:30
Saturday 11:00 - 15:00
Admission / price: Free