Michael Cullen: Paintings from Sierra de las Nieves, Málaga
Friday 18 November – Saturday 10 December 2011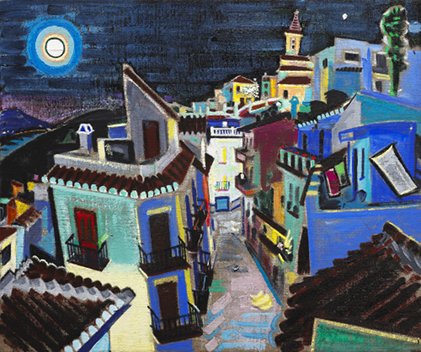 Preview: 6 to 8pm, Thursday 17 November 2011
Taylor Galleries is delighted to present Paintings from Sierra de las Nieves, Málaga, an exhibition of recent work by Michael Cullen that opens at the gallery with a private view on Thursday 17 November 2011 and runs until 10 December 2011.
These new paintings clearly display the important influence that southern Spain has had on Cullen's work; one that asserts itself most obviously in his characteristically multicolour palette in which a profusion of bright, clean colour is emphasised by accents of brilliant white that contrast with shadows of deep violet. This dichotomy is echoed in the materiality of the paint itself as heavily-applied impasto areas contrast with thin, dry swathes of colour that reveal the rough linen support beneath the image which emerges on the surface of the painting.
Michael Cullen was born in Wicklow in 1946 and studied at the Central School of Art and Design, London and the National College of Art and Design, Dublin. He was awarded the Independent Artists' Major Painting Award in 1984, the National Portrait Award in 1989 and has been the recipient of several Arts Council bursaries. He is an elected member of Aosdána and has had solo exhibitions at the Fenderesky Gallery, Belfast; Cavanacor Gallery, Donegal; Vangard Gallery and Triskel Arts Centre, Cork; as well as Temple Bar Gallery, Graphic Studio Gallery and Project Arts Centre, Dublin. His work is included in many private collections and is also represented in the public collections of the National Gallery of Ireland, Dublin City Gallery The Hugh Lane, the Arts Council of Northern Ireland and Dundee Contemporary Arts Society, Scotland, amongst others.
Image: Michael Cullen: Nocturne, Casabonela, 2011, oil on linen, 46 x 55 cm
Friday 18 November – Saturday 10 December 2011
16 Kildare Street, Dublin 2
Telephone: +353 1 676 6055
Opening hours / start times:
Monday 10:30 - 17:30
Tuesday 10:30 - 17:30
Wednesday 10:30 - 17:30
Thursday 10:30 - 17:30
Friday 10:30 - 17:30
Saturday 11:00 - 15:00
Admission / price: Free