Michael Coleman: "Works that have made an impression on me"
Thursday 2 December – Thursday 23 December 2021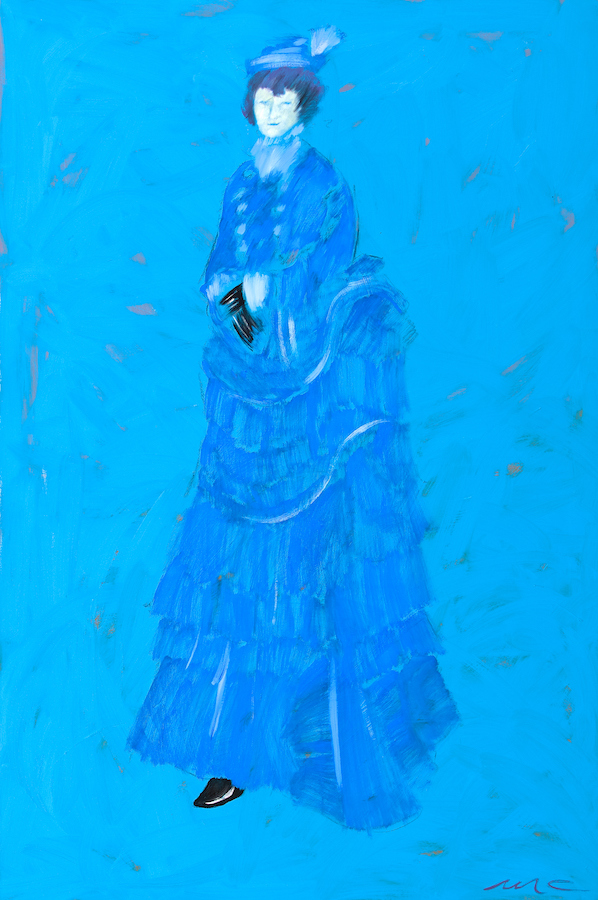 ――― In venue ―――
Meet the Artist 4 – 7pm on Thursday 2 December
"Nothing is safe in the studio John," he tells me when, on a second visit, I enquire after a square abstract expressionist piece in dark blues, purples and a hint of pink, that I had particularly fallen for on the first visit. In the intervening weeks only the shape remains the same, the painting completely transformed, now an island of greens and tawny browns, flecked with gleaming yellow. Taking in my shock Michael says (not altogether comfortingly!) "What seems unrecognisable can in fact be a stage in the making". For my part I am completely conflicted, mourning the remembered painting while falling under the spell of the work as it is now. So used to seeing paintings as fixed objects on gallery walls, this is a new experience for me. "The visitor to the studio is witness to the process" the painting's maker tells me.
Extract from 'More orange than pink', an accompanying text by John Poole.
Born in 1951, Michael had his first solo show at the Oliver Dowling Gallery in 1977. In the same year he was awarded the Carroll's Open prize at The Irish Exhibition of Living Art.1979 saw him win the first prize for painting at EV+A and in 1980 was awarded the same prize for a second time. Following these successes he moved to Vienna where he lived for some years, returning to Ireland in 1989. In 1991, he Featured in 'Irish Art of the Eighties' a survey exhibition at the Douglas Hyde Gallery, Trinity College Dublin.Two major solo shows in the 90's include his Hoeys Court Paintings at the RHA Gallagher Gallery, Dublin in 1994 and his 'Temple Bar Painting' Installation at the Hunt Museum, Limerick, 1998. He has presented solo exhibitions at the Jo Rain Gallery in 1997, the Green on Red gallery in 1998 and 2000, the Cross Gallery, 2004, 2006 and 2012 and in Kevin Kavanagh in 2019. His work is represented in public and private collections in Ireland and abroad.
Image: Michael Coleman, La Parisienne, 2021
Thursday 2 December – Thursday 23 December 2021
Chancery Lane
Dublin 8
Telephone: +353 1 475 9514
Opening hours / start times:
Tuesday 10:30 - 17:30
Wednesday 10:30 - 17:30
Thursday 10:30 - 17:30
Friday 10:30 - 17:30
Saturday 11:00 - 17:00
Admission / price: Free