Merlin James: To the Present
Friday 13 May – Saturday 25 June 2016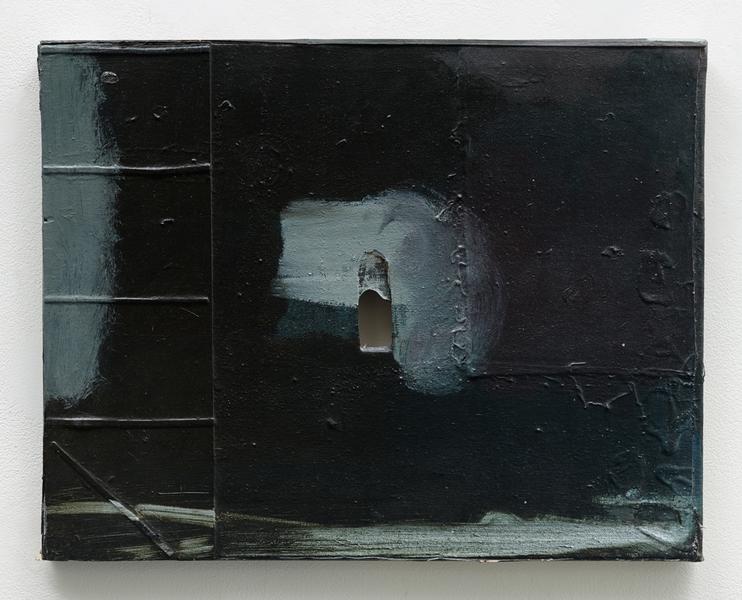 Kerlin Gallery is pleased to announce To the Present, an exhibition of selected paintings and works of paper by Merlin James.
Merlin James's work has been the subject of increased critical and curatorial attention in recent years. His recent solo exhibitions include CCA, Glasgow (2016); Douglas Hyde Gallery (2015 and 2012); Parasol Unit, London and KW Institute for Contemporary Art, Berlin (both 2013), while in 2007, he represented Wales at the 52nd Venice Biennale. His work has also been acquired by important public and private collections, most recently the Dallas Museum of Art and TATE, London.
To the Present provides an eclectic survey of James's career to date. Presenting work from over several decades, it aims to showcase the complexities and multi-faceted nature of James's practice, including his 'frame paintings' on light, translucent surfaces, alongside denser painting on canvas and works on paper. Many of the works in To the Present return to the landscape genre, with vernacular architecture surfacing as a recurring motif, but James's practice also includes varied and idiosyncratic still life paintings, domestic interiors and erotic scenes.
James approaches the history and legacy of painting with a highly considered and unconventional viewpoint. As commented by Artforum's Sherman Sam in February 2016, his work 'has sought to rigorously promlematise the experience of painting while simultaneously deepening its formal language'. Often distressed, pierced, cropped or heavily overpainted, his works refine and renew many of painting's most time-honoured concerns – genre and narrative, pictorial space and expressive gesture, the emotive resonance of colour and texture.
For further information, please contact Rosa Abbott, rosa@kerlin.ie.
Image: Merlin James: Untitled, 1997-99, acrylic and mixed media on canvas, 38.5 x 49 cm / 15.2 x 19.3 in
Friday 13 May – Saturday 25 June 2016
Anne's Lane
South Anne Street, Dublin 2
Telephone: +3531 670 9093
Opening hours / start times:
Monday 10:00 - 17:45
Tuesday 10:00 - 17:45
Wednesday 10:00 - 17:45
Thursday 10:00 - 17:45
Friday 10:00 - 17:45
Saturday 11:00 - 16:30
Admission / price: Free