Merlin James: In the Gallery
Friday 3 February – Wednesday 28 March 2012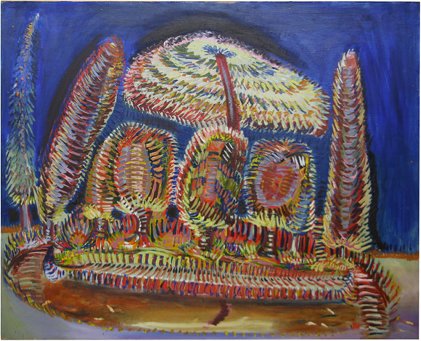 Opening Reception Thursday 2 February at 6pm • Artist's Talk at 5pm
Merlin James is a painter of small pictures in the 'easel' tradition. He is very much aware of the history of the medium, and the weight of the past is evident in everything he paints: it is both burden and ballast in a world of postmodern relativity. But James doesn't produce nostalgia or pastiche; nor does he opt for distance or irony. There is stubbornness in his approach to painting, and determination not to be daunted by the difficulties of engaging both with the past and the present.
As a consequence, perhaps, James' paintings are not conventionally beautiful; they are unapologetically individualistic and, in many respects, difficult. The nonconformist quality of his work (which should not be confused with occasional elements of an 'outsider' sensibility) is reflected by his enthusiasm, as a writer and sometimes curator, for painters such as Jean Helion, William Nicholson, Giorgio Morandi and Serge Charchoune—artists often overshadowed by the reputations of better-known peers.
Merlin James is sometimes regarded as a formalist, but this epithet is in many ways misleading. He is undoubtedly and unusually concerned with the process of painting and the 'objecthood' of pictures, but his images are too odd to be considered simply as visual or intellectual exercises in picture-making. There is awkwardness in them, as well as something gloomy that makes the viewer feel a little ill-at-ease. These qualities, in conjunction with James's studied ambivalence and sense of humour, bring to mind the tone and melancholia of the Dada artist and painter Francis Picabia, who once said 'Good taste is as tiring as good company'.
The works in this exhibition, which span his career, were selected by Merlin James. A new catalogue, with notes on the paintings by the artist and a poem by Dannie Abse, will be published to accompany the show.
The Douglas Hyde Gallery gratefully acknowledges the commitment and enthusiasm of the artist, and the generous support of the catalogue by Kerlin Gallery, Dublin, and Sikkema Jenkins & Co., New York.
Artist's Talk
On the day of the opening, Merlin James will give a talk on the exhibition and his practice. Thursday, February 2, at 5pm. All are welcome, admission free.
Image: Merlin James: Garden, 1981, oil and acrylic on board, 74 x 92 x 2.5 cm; courtesy of the artist
Friday 3 February – Wednesday 28 March 2012
Trinity College, Dublin 2
Telephone: + 353 1 896 1116
Opening hours / start times:
Monday 11:00 - 18:00
Tuesday 11:00 - 18:00
Wednesday 11:00 - 18:00
Thursday 11:00 - 19:00
Friday 11:00 - 18:00
Saturday 11:00 - 16:45
Admission / price: Free