Melita Denaro: On Home Ground Then
Friday 17 June – Saturday 9 July 2016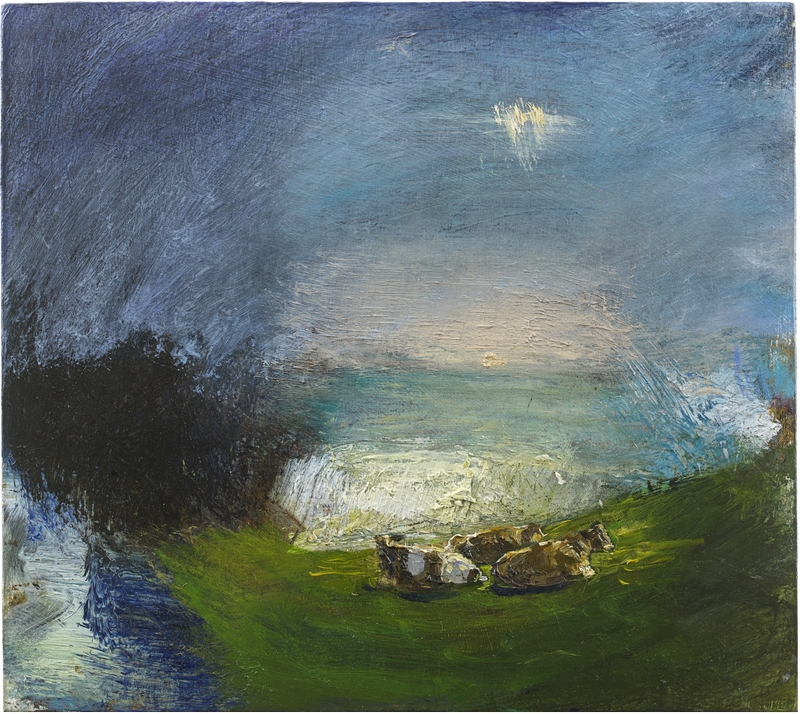 Taylor Galleries is proud to present Melita Denaro's fourth solo exhibition with the gallery.
On Home Ground Then brings together a series of small studies on board painted on-location in a field adjoining her home on the remote Isle of Doagh in the northernmost part of Donegal, as well as several larger works on canvas that were completed in her studio in London. The title of the exhibition comes from a chance meeting with Seamus Heaney following a talk he presented in Ballyliffin several years ago. The artist was introduced to him after the talk and on hearing her accent he enquired as to where she was from. When Denaro said "Burt" (her home place, about an hour from the Isle of Doagh) he smiled, acknowledging her Irishness, and said, "[O]n home ground then". She was touched that he saw past her accent (drilled into her at convent school in England) to her nationality, which, as is evident in her work, is very dear to her.
Melita Denaro was born in Donegal in 1950 and studied Ceramics at the Central School of Art in London from 1975 to 1978. In 1992 she completed a Postgraduate Diploma in Painting at the Royal Academy School. Denaro lives and works between Donegal and London and her work is represented in the public collections of Donegal County Council, Guinness, the OPW / State Art Collection and the Ulster Museum, Belfast, as well as numerous private collections which include that of HRH The Prince of Wales. She was awarded the Armitage Prize and the David Murray Travelling Scholarship in 1994, and the Creswick Prize and Royal Academy Silver Medal in 1995.
Image: Melita Denaro: On home ground then, oil on board, 26 x 29 cm
Friday 17 June – Saturday 9 July 2016
16 Kildare Street, Dublin 2
Telephone: +353 1 676 6055
Opening hours / start times:
Monday 10:30 - 17:30
Tuesday 10:30 - 17:30
Wednesday 10:30 - 17:30
Thursday 10:30 - 17:30
Friday 10:30 - 17:30
Saturday 11:00 - 15:00
Admission / price: Free