Melissa O'Donnell: Beautiful Decay
Thursday 4 May – Saturday 27 May 2023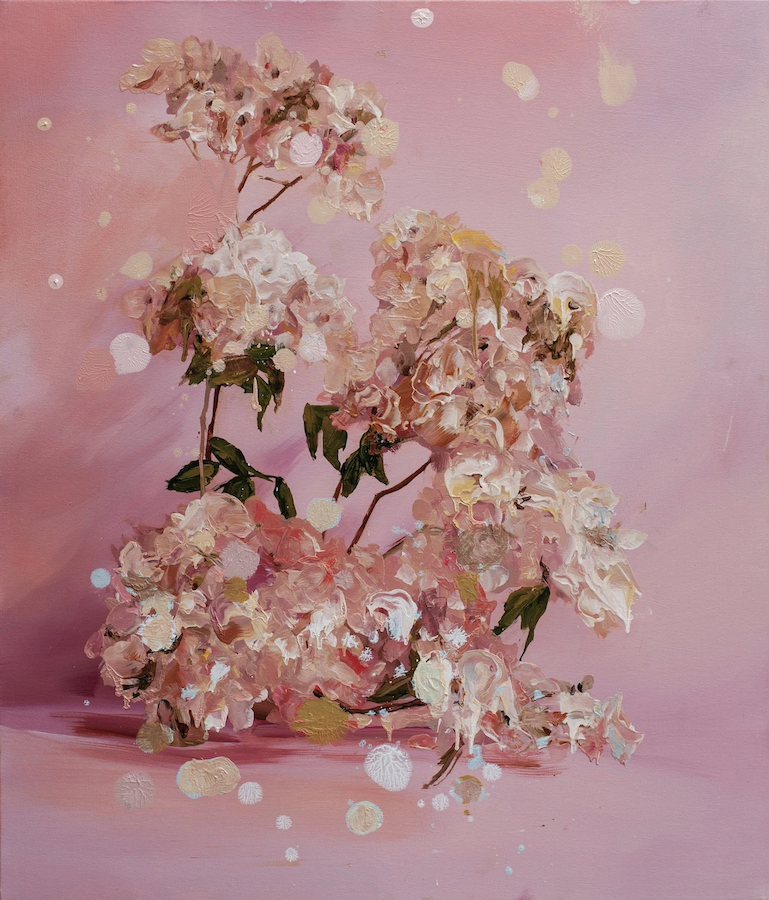 ――― In venue ―――
Solomon Fine Art is delighted to present the inaugural exhibition of one of the latest artists to join the Solomon stable, Melissa O'Donnell (FKA O'Faherty). In this, the artist's first since her impressive 2021 solo at the Royal Hibernian Academy of Arts, O'Donnell presents a new body of paintings which offer a contemporary take on botanical art whilst paying tribute to past masters and historical depictions of this genre.
View online here.
O'Donnell's paintings offer an alternative and somewhat uncanny, dream-like view of nature. By toying with the distinction between subject and background her meandering floral compositions reveal themselves like apparitions, while playful elements of textured mark-making disrupt and invigorate the delicate and seemingly ephemeral surfaces. Listing the Surrealists as an important influence on her work, O'Donnell employs similar techniques such as automatic drawing and free-form mark making as she strives to tap into the subconscious and transport herself and subsequently the viewer into a familiar yet somewhat unexpected atmosphere.
Born in Dublin, O'Donnell has exhibited both nationally and internationally. Her work was included in the recent Sotheby's Irish Art sales in London and Paris and has been exhibited online at the Contemporary Irish Arts Centre, Los Angeles. In 2020 she was shortlisted for the prestigious John Moore's Painting Prize and was a selected painter on the Turps Contemporary Painting Mentorship Program, London 2018-2021. In 2019 she was awarded a summer residency at Notre Dame Global University, Galway. O'Donnell's work is held in both private and public collections, including the OPW State Art Collection and the RCSI, Dublin.
Image: Melissa O'Donnell: Meditative Hydrangeas, 2023, Oil on Canvas, 70 x 60cm
Thursday 4 May – Saturday 27 May 2023
Balfe Street, Dublin 2
Telephone: +353 86 814 2380
Opening hours / start times:
Tuesday 10:00 - 17:30
Wednesday 10:00 - 17:30
Thursday 10:00 - 17:30
Friday 10:00 - 17:30
Saturday 11:00 - 16:00
Admission / price: Free