Mel Brimfield: Quantum Foam
Saturday 6 December 2014 – Saturday 17 January 2015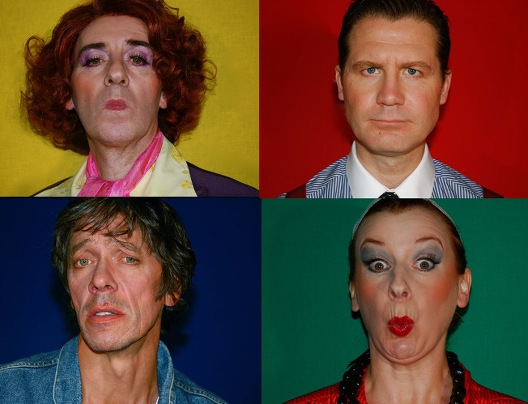 Quantum Foam is a touring exhibition of work by UK artist Mel Brimfield, her first showing in the Republic of Ireland. Operating at the intersection of live art, theatre and film, Brimfield's practice takes a skewed and tangled romp through the already vexed historiography of performance art, simultaneously revealing and inventing a rich history of collaboration between artists, dancers, theatre makers, political activists and comedians. Presented by Kinsale Arts Festival and curateed by former Director Marie McPartlin, the tour encompasses Wexford Arts Centre, Galway Arts Centre and The LAB, Dublin. Quantum Foam is a retrospective of the artist's work, with each gallery presenting an original series of existing works.
Galway Arts Centre will be presenting a Four Characters in Search of A Performance, a film that seeks to reconstruct a fictional lost performance artwork. A series of four characters provide contradictory eyewitness accounts of a live art event bringing into question whether it is possible to locate a transient performance after its completion. In this film the four main characters are exploring how we 'locate' the artistic experience. Four Characters in Search of A Performance,is written and produced by Mel Brimfield and commissioned by Jerwood Visual Arts.
Brimfield enlists the services of a diverse range of performers to realise her own complex productions in galleries, theatres and at academic conferences. Documentary-style films and live works playfully associate performance art with most significant cultural developments of the last 100 years. Low-end showbiz memoirs, sensationalist biographical documentaries and cheap-to-make TV clip programmes compiling lists of 'The 100 Top/Best/Greatest…' are referenced in the work alongside formal museological displays of performance ephemera and documentation. The second hand anecdotes and mythologies surrounding performers and their performances are expanded, distorted and completely supplanted by new fictions, with archival photographs and footage, and authentic ephemera being appropriated and re-contextualised, or entirely invented at will.
Born in 1976, Brimfield lives and works in London. Recent solo exhibitions include Void Gallery, Derry (2014), John Hansard Gallery, Southampton (2013) and Ceri Hand Gallery, London (2012).
quantumfoam.ie
Quantum Foam is funded by the Arts Council Touring Award
Saturday 6 December 2014 – Saturday 17 January 2015
47 Dominick Street
Galway
Telephone: + 353 91 565 886
Opening hours / start times:
Monday 10:00 - 17:30
Tuesday 10:00 - 17:30
Wednesday 10:00 - 17:30
Thursday 10:00 - 17:30
Friday 10:00 - 17:00
Saturday 10:00 - 14:00
Admission / price: Free