Méadhbh O'Connor: Unknown Shores
Friday 11 April – Monday 28 April 2014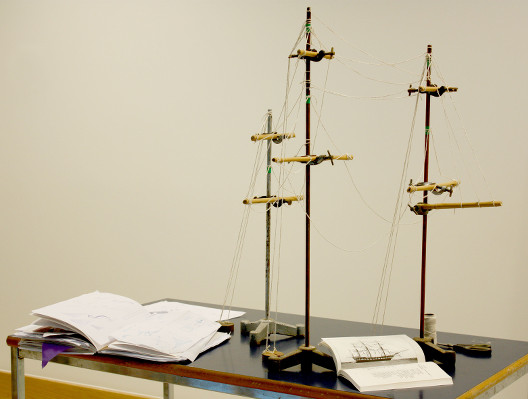 Opening Reception Thursday 10 April, 5:37 – 7:30pm • A Solo Show by UCD Science Artist in Residence, Méadhbh O'Connor
UCD Art in Science is delighted to present Unknown Shores, a solo exhibition by UCD Science Artist in Residence Méadhbh O'Connor. Méadhbh has constructed an ambitious, large-scale sculptural installation on-site at UCD Science. The project was directly inspired by her close work with Dr. Emmanuel Reynaud and by the extraordinary voyage he undertook studying the world's oceans with Tara Expeditions, a non-profit organisation dedicated to high-level scientific research missions.
Following a year spent by Méadhbh at UCD Science working closely with Emmanuel Reynaud and other scientists, Unknown Shores aims to capture the spirit of scientific inquiry as a continuous and unbounded human journey.
Méadhbh built this artwork using laboratory equipment salvaged from UCD Science, steel, copper, tubing, netting, nautical objects, wood and other elements.
http://www.meadhbhoconnor.info/
Friday 11 April – Monday 28 April 2014
UCD O'Brien Centre for Science
UCD Belfield, Dublin 4
Admission / price: Free