McCormack
Friday 18 December 2015 – Sunday 10 January 2016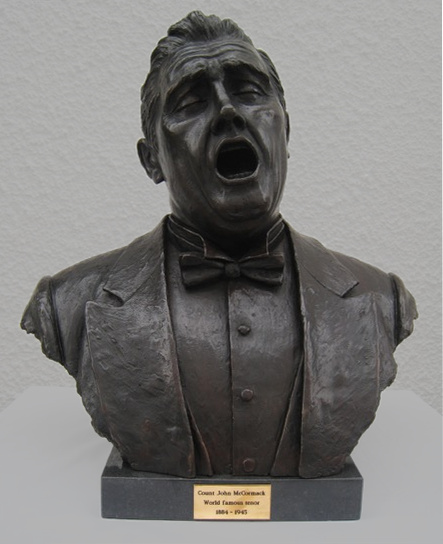 Luan Gallery to welcome home Athlone's famous son
Luan Gallery is gearing up to launch McCormack an exhibition featuring Portrait of John Count McCormack by Sir William Orpen on loan from the National Gallery of Ireland. Also showing: The People's Tenor, a documentary film produced by Martin Dwan and a bronze portrait bust by artist Elizabeth O'Kane.
This December, Luan Gallery will host a very special exhibition dedicated to Athlone's most famous musical export, John Count McCormack.  The exhibition simply titled McCormack; will feature the famous Portrait of John Count McCormack by renowned Irish artist Sir William Orpen KBE, RA, RHA on loan from the National Gallery of Ireland. Accompanying this celebrated piece of Irish art history will be a documentary; The People's Tenor and a bronze portrait bust by Elizabeth O' Kane.
The Portrait of John Count McCormack by Sir William Orpen was acquired by the National Gallery of Ireland in 2009 purchased at Christie's art auction in London. At the time, Christie's described the work as one of the best paintings by Orpen to come to the market in many years. This art work, painted in 1923, represents two of Ireland's finest artists coming together at the height of their respective careers and is a very special work indeed.
The People's Tenor, a 56 minute film made in 2006 by Gordon Ledbetter and Martin Dwan, looks at the life and times of Ireland's first global superstar John Count McCormack. With over 800 recordings in his catalogue McCormack was a colossus of the concert stage and made millions. The documentary will be shown alongside the viewing of the Orpen portrait until January 10th 2016.
A portrait bust in bronze by Irish artist Elizabeth O' Kane will also be on display at Luan Gallery during this exhibition. The portrait bust of John Count McCormack is a detail of a large bronze sculpture in Dublin's Iveagh Gardens, beside the National Concert Hall. Commissioned in 2008 by Peter and Martin Dwan to commemorate the tenor, the sculpture depicts McCormack performing, dressed in bow tie and formal dress coat, lost in song.
A complimentary programme of events is currently being organised by the Luan Gallery team and features a series of talks and a musical recital. Adrian LeHarivel, Curator of British Art at the National Gallery of Ireland, local history expert Gearoid O' Brien and McCormack biographer Gordon Ledbetter are each delivering a talk during the exhibition and Peter O'Reilly and Kevin Corcoran will perform a musical recital. Details of these events can be found on the Luan Gallery facebook page: facebook.com/athloneartsandtourism or onsite at Luan Gallery on Grace Road, Athlone.
Sir William Orpen, was a highly skilled and successful portrait and subject painter and is recognised as one of the greatest Irish portrait artists. Born in 1878 in Stillorgan, County Dublin he moved to London as a student where he then forged a successful career as a society portraitist. Orpen returned to Ireland regularly and taught at the Dublin Metropolitan School of Art where his academic style had a significant influence on many Irish artists. He was one of the official war artists sent to France during World War I.The National Gallery of Ireland has hosted two major retrospectives of his work. The first, held in 1978 was a catalyst in reviving an interest in the artist's work. The second, held in 2005 in association with the Imperial War Museum in London, was a comprehensive exhibition of 70 oil paintings drawn from public and private collections all over the world and was curated by Robert Upstone, Senior Curator of Tate Britain.
Friday 18 December 2015 – Sunday 10 January 2016
Athlone, Co. Westmeath
Telephone: +353 9064 42154
Opening hours / start times:
Tuesday 11:00 - 17:00
Wednesday 11:00 - 17:00
Thursday 11:00 - 17:00
Friday 11:00 - 17:00
Saturday 11:00 - 17:00
Sunday 12:00 - 17:00
Admission / price: Free