Maud Cotter: a consequence of – without stilling
Sunday 30 September 2018 – Sunday 6 January 2019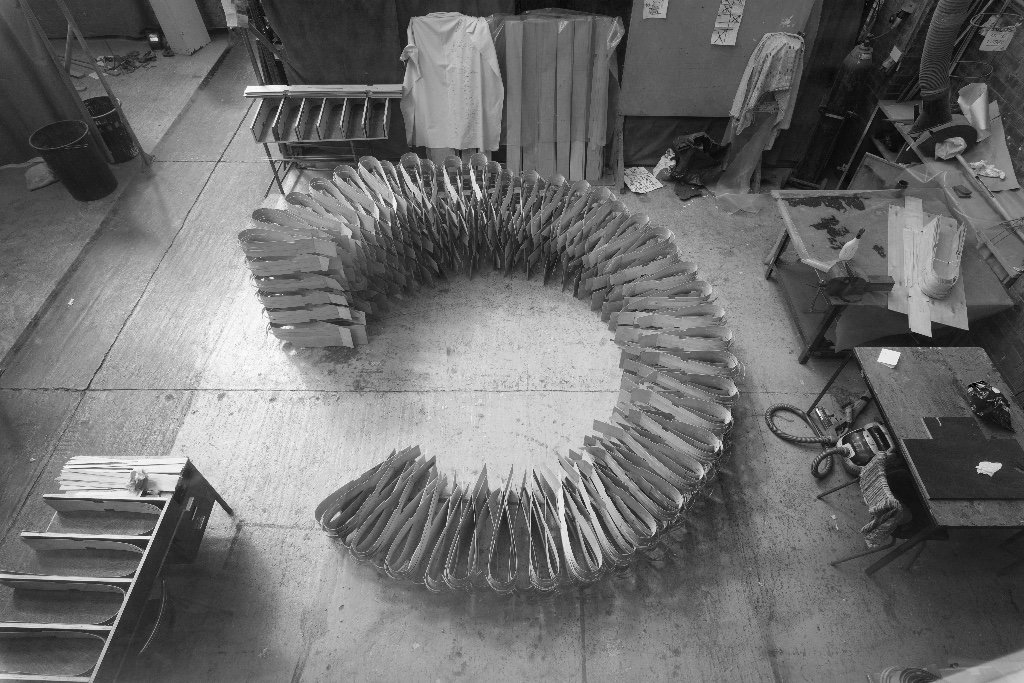 A 'conversation' between Mary McCarthy & Artists, 2 – 3pm (further information available www.gallery.limerick.ie)
a consequence of – without stilling will introduce a major new piece, presented in conversation within selected works from Maud Cotter's practice in this beautiful gallery set in a Mansion in a Park.  Cotter is recognised for employing a mix of will and agency in the formation and context in her practice.  A stillness in presence is followed by movement, bringing about an inevitable shift of meaning.  Macro-physicality finds its point of incision; conscious and insightful, it enters the molecularly complex world of the object.  These actions orchestrate new formations in that amorphous bank of matter behind appearance – consciousness modelling form.
The gallery becomes a mercurial landscape of the mind, a place where matter, and consciousness mix.  In this world of material compliance and contradiction, no rule applies.  In this world or upheaval, lies a consequence of – .
The exhibition at LCGA will be accompanied by a specially commissioned text by Sarah Kelleher, University College Cork.
The exhibition 'a consequence of – without stilling' at LCGA will be followed by two further solo exhibitions: at The Dock, Carrick-on-Shannon 'a consequence of, a breather of air' in 2018 and at the Dublin City Gallery, The Hugh Lane, Dublin in 2020 'a consequence of – entanglement' in 2020.
" … apparently arbitrarily grown up; governing different sets of properties at different levels of abstraction; pockets of great precision; large parcels of qualitative maxims resisting precise formulation; erratic overlaps; here and there, once in a while, corners that line up, but mostly ragged edges; and always the cover of law just loosely attached to the jumbled world of material things." 1
Maud Cotter lives and works in Cork. She is a graduate and Adjunct Faculty Member of the Crawford Municipal College of Art and Design, Cork, Ireland. Cotter has lectured in Art and Architectural Colleges in Europe and America. She is co-founder of the National Sculpture Factory and a member of Aosdána.
www.maudcotter.com • www.domobaal.com
____
1 Nancy Cartwright, The Dappled World, A Study of the Boundaries of Science, Cambridge: Cambridge University Press, 1999, p.1
Image: Maud Cotter without stilling (work in progress) at the National Sculpture Factory, Cork; photograph by Roland Paschhoff, courtesy the artist and domobaal.
Sunday 30 September 2018 – Sunday 6 January 2019
Pery Square, Limerick
Telephone: +353 61 310633
Opening hours / start times:
Monday- Saturday 10am – 5pm
Sunday 12 – 5pm
Last admission 15 minutes before Closing time.
Admission / price: Free
The gallery is closed on Bank and Public Holidays.