Mary Wycherley: Invisible Histories
Wednesday 31 October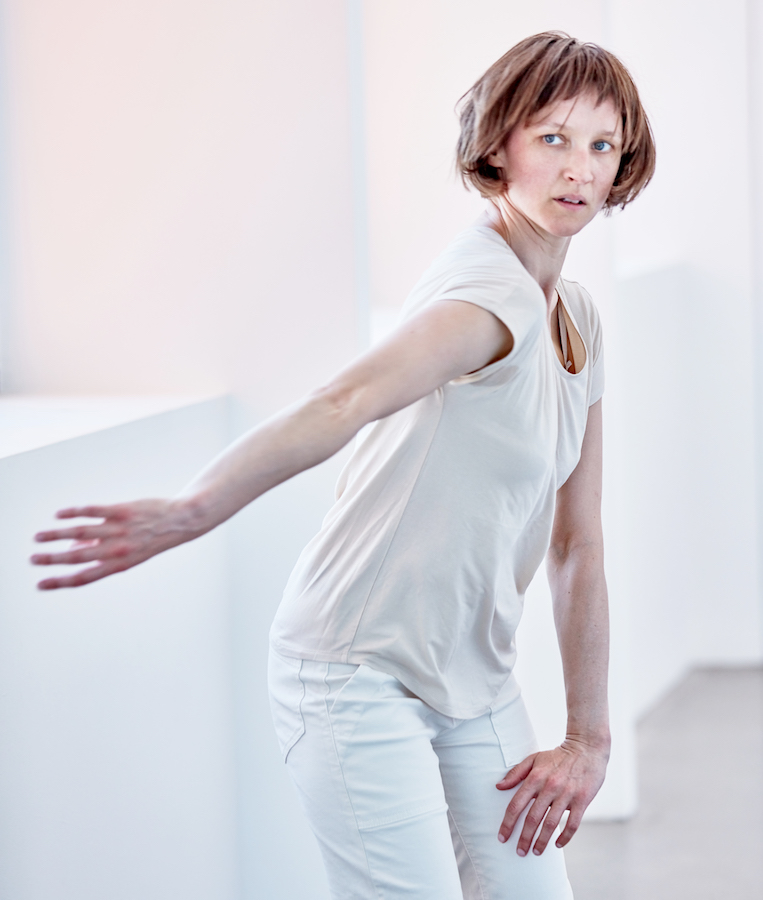 Mary Wycherley | La Cosa Preziosa | Rory Tangney
Invisible Histories is a new dance work by Skibbereen-born choreographer and performer Mary Wycherley, bringing together sculptor Rory Tangney and award-winning sound artist La Cosa Preziosa for a captivating experience exploring time and memory, created specifically for gallery environments. Following a hugely successful premiere at Limerick City Gallery of Art, Invisible Histories is coming toUillinn West Cork Arts Centre  with an afternoon performance on Wednesday 31st October as part of the Uillinn Dance Season.
Rich with sensations and images, Invisible Histories will see the audience follow Mary's performance through different spaces in the gallery, each with a different texture – each housing a new art work by Tangney, and each with a unique sound world from La Cosa Preziosa. This exciting new piece will look at memories not as fixed narratives from the past but as emotional experiences that create transforming collisions with the present. Wycherley comments, "All of our histories are held, or physicalised, in our bodies. With this work we're exploring the traces those histories leave on our bodies, and how those traces then feed into our collective experiences."
This live dance-led project builds on Wycherley's long-standing interest in innovative modes of presentation for dance, and coincides with the momentum of 21st Century galleries engaging with contemporary dance including The Tate, Le Louvre and Carriageworks, Sydney, and more locally the National Gallery of Ireland and Royal Hibernian Academy.
This collaborative work will see audiences witnessing the interaction between Mary as performer, Rory's sculpture, La Cosa Preziosa's soundscapes and the space of the galleries. Wycherley says, "Choosing to make this piece in a gallery is about considering the different ways we can experience dance. If we look at a dancer and a sculpture together, how does that effect how we experience each?  How do these contrasting and these, at times, conflicting items – dance, music and sculpture – reveal each other?"
Invisible Histories has been created with dialogue with one of the foremost figures in British dance Siobhan Davies– both Davies and Wycherley having an interest in dance outside traditional performance spaces. A collection of writings and interviews by artists, academics and critics including Dr Erin Brannigan and Siobhan Davies, accompanied by photographs and drawings of the creation process, will accompany the live experience of Invisible Histories. Contributors will be reflecting on interdisciplinary processes and dance in the gallery setting, and also revealing some aspects of the process to offer other ways to think about the work. The tour will also be accompanied by discussions and workshops. 
"Lines of time passing through,
a porous imprint of weight and memory.
The sustained echoes distilling the silence whites"
Invisible Histories has been funded under the Arts Council's Dance Project Award and in partnership with Limerick City Gallery of Art; Visual Carlow; West Cork Arts Centre; Void, Derry, Echo Echo Dance and Dance Limerick.
Mary Wycherley is a dance artist whose work embraces live performance, choreography and film. She has a long-standing interest in innovative modes of presentation for dance and collaborative processes underpin her practice. Mary is Limerick Dance Artist in Residence 2015-2018.  Mary has collaborated with a range of artists including choreographers Mary Nunan, Joan Davis, Liz Roche and Hélène Cathala, composers Jürgen Simpson, Ray Harman, Steve McCourt and theatre director Monica Spencer, and her work has toured festivals and galleries nationally and internationally. Mary is a curator of Light Moves festival of screendance and was the Course Director of the MA Contemporary Dance Performance in UL in 2016 and 2017. Wycherley has explored the  idea of memory and how it is held in our bodies in previous works including Time…and again and in Dance of Making, in which she explored movement inherent in craft-making in Ireland. For more information see: marywycherley.com.
Rory Tangney is a Dublin-based artist who has exhibited in Ireland and Europe. Through his sculpture work he explores a range of materials, and creates installations and objects which ponder the interconnectedness of things and the relationships we have with the physical and socio-political environments as we surge towards a future defined by an uncertain association with technology. For more information see: www.rorytangney.com
La Cosa Preziosa (Susanna Caprara) is a multi award winning sound artist and field recordist originally from the south of Italy and based in Dublin, Ireland.Her work is focused on the creation of creative audio works composed exclusively out of original field recordings, captured in different locations around the world.  These can take the form of narrated fiction, abstract composition, electroacoustic sound art, experimental organic tracks and radio documentaries.   Recent projects include Onironautica (RTÉ Lyric FM commission for EBU ArsAcustica's broadcasts of Art's Birthday 2017),and Mean Time, a large scale live performance inspired by the women of 1916 (Richmond Barracks and live broadcast on RTÉ Lyric FM).  For more information see: www.lacosapreziosa.net.
Image: photo Maurice Gunning
Wednesday 31 October
Skibbereen, Co Cork
Telephone: +353 28 22090


* Those attending are asked to arrive at the venue 15 minutes in advance.*