Mary Swanzy: Voyages
Friday 26 October 2018 – Sunday 17 February 2019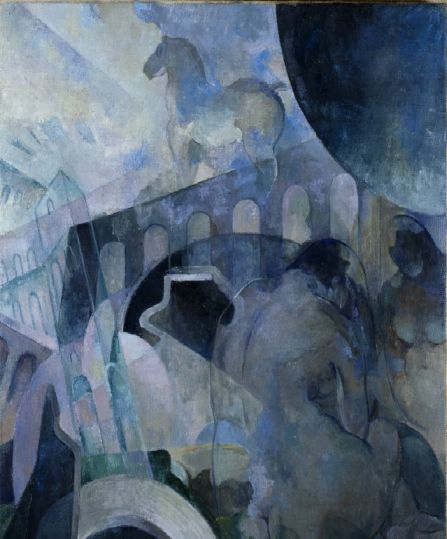 Mary Swanzy (1882-1978) is a unique Irish artist. Her level of achievement, world travel and original thinking is unmatched in Irish art, yet this is the first retrospective of her work in 50 years. Born in the late Victorian era, by her early twenties Swanzy had mastered the academic style of painting. She witnessed the birth of Modern art in Paris before the First World War and her work rapidly evolved through the different styles of the day, each of them interpreted and transformed by her in a highly personal way. In 1920, against the background of violence of the Irish War of Independence, she left Ireland in a form of self-imposed exile. Traveling first through Eastern Europe and the Balkans, she then sailed to Hawaii and Samoa from 1923 to 24 – literally crossing the globe. While there she produced a body of work that is unique in an Irish context with images that show her proto-feminism and critique of the colonial system. Best known for her Cubist and Futurist paintings, after 1914 she exhibited regularly at the Paris Salon des Indépendants and the Beaux Arts, alongside artists who are now household names. By 1946 she was included in exhibitions with Chagall, William Scott and Henry Moore but after this time her work fell into obscurity. This may in part have been due to her status as a female artist and indeed she was vocal on issues of gender, remarking; 'if I had been born Henry instead of Mary my life would have been very different'. This exhibition aims to introduce audiences to her extraordinary achievements.
This IMMA initiated exhibition aims to reintroduce our audiences to this artist's extraordinary achievements and reinstate her as a Modern Irish Master. The exhibition is presented as part of the IMMA Modern Irish Masters Series.
Exhibition Tour:
Crawford Art Gallery, Cork: 15 March – 3 June 2019
Limerick City Gallery of Art: 20 June – 15 September
Associated Events
Curators Lecture / Seán Kissane
Mary Swanzy, Voyages
Saturday 3 November 2018, 1.00pm / Lecture Room, IMMA
IMMA curator Seán Kissane discusses the major retrospective Mary Swanzy, Voyages. Mary Swanzy is arguably Ireland's first 'modernist' painter and this is the first major retrospective of her work since 1968. The exhibition offers a timely review of Swanzy's work, demonstrating her early mastery of Modernist styles, her wide travels, idiosyncratic feminism and forward-thinking ideas that makes Swanzy such a fascinating artist to explore in our times.
Gallery Talk / Liz Cullinane
Swanzy's Life and Work
Friday 7 December 2018, 1.00pm / Main Galleries, East Wing
Artist and researcher Liz Cullinane draws on her biographical investigations into Swanzy's life long career and shares some of the most intriguing discoveries to emerge out of the artist's own records, archives, and accounts from those closest to her. This talk explores a selection of works some of them comprising several rooms of the IMMA exhibition.
Lecture & Response / Louise Wallace
Mapping Unknown Terrain: Modernism, Gender, Space in the Paintings of Mary Swanzy
Wednesday 5 December 2018, 6.30 – 7.30pm / Lecture Room
Dr Louise Wallace, Associate Lecturer in Fine & Applied Art: Painting, Belfast School of Art, Faculty of Arts, discusses themes of gender, interior space, domesticity and women's labour that characterize some of the most definitive works comprising of the IMMA exhibition Mary Swanzy, Voyages. This talk positions Swanzy's oeuvre within the developments of Modernism, the cult of the flâneur and the avant-garde's predilection for travel. Swanzy's articulation of a particularly feminine gaze will be read alongside the contemporary concerns of female painters working today.
Curators Lunchtime Talk / Mary Swanzy, Voyages – Drop In
Wednesday 16 January 2019, 1.15 – 2.00pm / Meeting Point, Main Reception
Karen Sweeney, Exhibitions, IMMA, presents a walkthrough on the key themes and artworks featured in the major retrospective Mary Swanzy,Voyages.

Lecture & Response / Selena Daly
Futurism & Ireland, Swanzy's Modernist Aesthetic
Saturday 19 January 2019, 2.00pm / Lecture Room
Selena Daly, social and cultural historian and Lecturer at Royal Holloway, University of London, discusses the shaping of Swanzy's Modernist Aesthetic from the context of her acclaimed monograph Italian Futurism and the First World War, 2016. Reflecting on Swanzy's first-hand encounters of Futurism in Italy, Daly traces Swanzy's Futurist's connections, as well as the movement's reception in Ireland, during a period when Irish society was undergoing huge social and political upheaval.
Seminar & Closing Discussion / Mary Swanzy, Voyages 
Friday 8 February 2019, 2.00 – 4.30pm / Lecture Room
Examining the reception of Mary Swanzy's work in Ireland and beyond, a panel of art writers, curators and academics come together to bridge existing art criticism with new research to emerge out of the staging of a major retrospective since the artist last exhibited in Ireland 50 years ago. This seminar / roundtable discussion delves deeper into archival materials and art contexts, to position Swanzy's oeuvre within current discourses on Modernist art in Ireland, the place of women as artists and revolutionaries in Irish Modernism, and the role of censorship, ideology, cultural bias and displacement plays in historicising of an artist of Swanzy's significance in Ireland. Chaired by, Dr. Róisín Kennedy, Lecturer, School of Art History and Cultural Policy, UCD, a dynamic panel of speakers will be announced shortly.
Image: Mary Swanzy / Female Nudes with Horse and Viaduct / c. 1930s / 76 x 63.5 / Courtesy Pyms Gallery, London
Friday 26 October 2018 – Sunday 17 February 2019
Royal Hospital, Kilmainham
Dublin 8
Telephone: +353 1 612 9900
Opening hours / start times:
Tuesday 11:30 - 17:30
Wednesday 11:30 - 17:30
Thursday 11:30 - 17:30
Friday 11:30 - 17:30
Saturday 10:00 - 17:30
Sunday 12:00 - 17:30
Admission / price: Free
Bank Holidays open 12:00 – 17:30.