Mary Ruth Walsh: Strangely Familiar Shades of Gray
Saturday 30 April – Friday 20 May 2011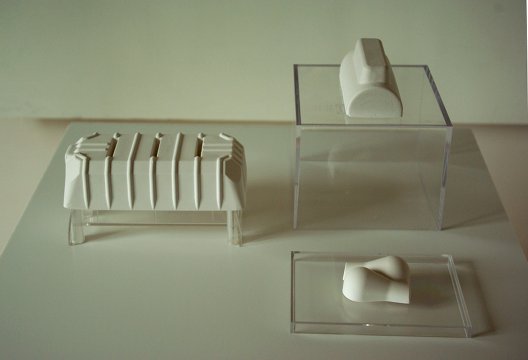 Born in Dublin, Mary-Ruth Walsh received a B.A. in Fine Art & Art History from the National College of Art and Design (2001). She subsequently completed a Masters Degree at Goldsmiths College, London, specialising in Exhibition and Studio Practise. Walsh has exhibited nationally and internationally in CUBEOpen 2010, Manchester; co-curating Utopia Ltd, Highlanes, Drogheda, 2011; Three Colours Blue, SOMA Contemporary, Waterford, 2011 and the Artists Residency Programme in the Irish Museum of Modern Art, 2011.
Walsh works with a series of ready-mades and discarded objects, as well as video and photography, in order to explore ideas pertaining to human interaction with space and more specifically the manner in which architecture affects the way we move and behave within it. Lens-based media becomes a tool for Walsh to form a meditation on the objects she creates, as well as opening a dialogue on the way in which museums present and display work resulting in what Walsh terms: the spectacularisation of museum culture with the resultant immateriality of the artworks.
Strangely Familiar Shades of Grey plays on Walsh's imagined recreations of Eileen Grey's houses Tempe a Pialle** and E1027. The artist builds on the myth and legend of these lost spaces. The work engages with the creativity of Grey's furniture, a marvel of malleable functionality where every piece was inventively designed to move in some way.
Saturday 30 April – Friday 20 May 2011
47 Dominick Street
Galway
Telephone: + 353 91 565 886
Opening hours / start times:
Monday 10:00 - 17:30
Tuesday 10:00 - 17:30
Wednesday 10:00 - 17:30
Thursday 10:00 - 17:30
Friday 10:00 - 17:00
Saturday 10:00 - 14:00
Admission / price: Free