Mary-Ruth Walsh: A Silent Space in the Turning World
Friday 15 February – Saturday 27 April 2019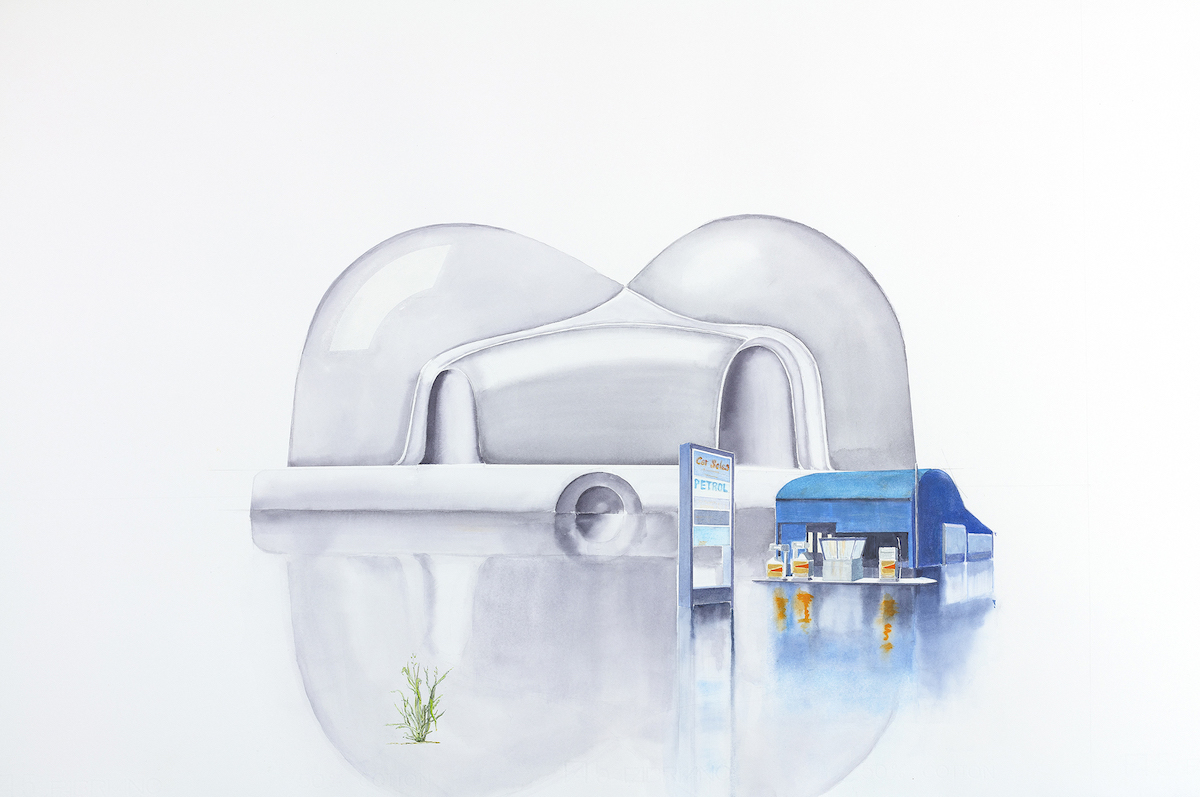 New paintings, collages and blueprints by Mary-Ruth Walsh, that reinterpret architecture and landscape and reflect on Brian O'Doherty's longstanding engagement with space, place and architecture. Commissioned by Sirius Arts Centre for One Here Now: the Brian O'Doherty / Patrick Ireland Project. Supported by the Arts Council and Cork County Council.
Mary-Ruth Walsh is an Irish artist working in drawing, painting, film-making, sculpture-installation, critical writing and occasionally performance. Her practice explores how architecture affects the way we move and behave. Taking her inspiration from the language of architecture she construct imagined proposals exploring ideas relating to built space and contemporary culture. Drawing from the utopian ideals of 20th and 21st century architecture and juxtaposing these with vernacular architecture she creates a new dialogue. Often using found objects to make her work, she translates these into architectural shorthand, like a new vocabulary. The theatrical aspect of how the art is displayed both juxtapositions and parallels architecture using seductive surfaces that leads the viewer in. These objects or 'architectural proposals' are often placed in undocumented spaces both inside and outside the gallery space. It's what Walsh calls 'guerrilla architecture'. These themes are underpinned by rigorous research and the work is not meant to illustrate but rather to engender ideas of why and for who the space is created.
Aidan Dunne described Mary-Ruth Walsh's work: 'Walsh has inventively explored the incongruous overlap between the reality of mass consumer culture and the utopian impulse of modernist planning and design… – just six works on paper – but beautifully done and packed with ideas'.
Talk by Yvonne Scott, Associate Professor of History Of Art in Trinity College, Dublin at 6pm on Thursday 14th February.
Mary-Ruth Walsh is a Dublin born artist and completed her MA in Fine Art at Goldsmiths University of London. She had residencies in IMMA; Royal Hibernian Academy Dublin; Aabenraa Artweek (Denmark) and Basekamp (Philadelphia). Walsh's numerous solo and group exhibitions including IMMA (Dublin); The Hugh Lane (Dublin); Royal Hibernian Academy (Dublin); CUBEOpen (Manchester); Oonagh Young Gallery (Dublin); Highlanes Gallery (Drogheda); Parlour (New York); Arts Centre (Wexford); Arts Centre (Galway); Goethe Centre (Dublin); SCOPE (Miami) and Cross Gallery (Dublin). Her public work extends beyond the gallery space and is both permanent and temporary. Walsh's awards include Arts Council of Ireland's Visual Arts Bursary, Project and Travel Awards; Create Ireland research bursary; Educational and Mentoring Awards (Wexford County Council).

Dr. Yvonne Scott is Associate Professor of History of Art at Trinity College Dublin, and founding Director of TRIARC (Trinity's Irish Art Research Centre). She has published extensively on aspects of Modern and contemporary art, including on Paul Klee, Georgia O'Keeffe, Brian O'Doherty/Patrick Ireland, Patrick Scott, Dorothy Cross, and Kathy Prendergast, and her current research is focused on landscape and environment. She is currently writing a book on Agendas in Landscape and Environment in Modern and Contemporary Irish Art.
Image: Rick, Patrick Ireland, IMMA, 2000. Image Fionn McCann
Friday 15 February – Saturday 27 April 2019
The Old Yacht Club
Cobh, Co. Cork
Telephone: +353 21 481 3790
Opening hours / start times:
Wednesday – Saturday, 11:00 – 16:00
Admission / price: Free