Mary Lohan: Ocean
Friday 9 May – Saturday 31 May 2014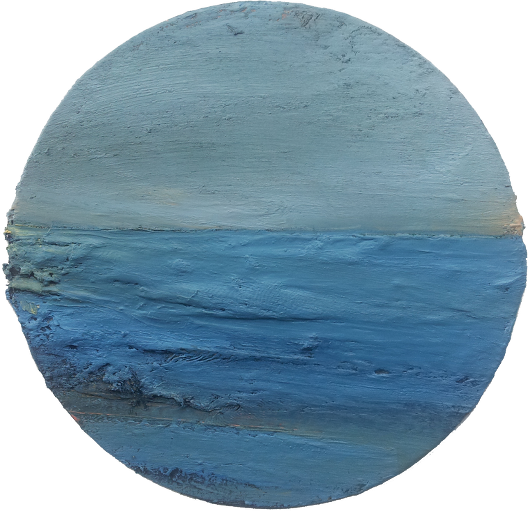 Opening Reception Thursday 8 May, 6 to 8pm
Ocean is Lohan's first exhibition with the gallery since 2008's Ballyconnigar, which concentrated on a spectacular stretch of coastline close to the village of Blackwater in Co. Wexford. This new body of work sees her gaze expanding. Her recent seascapes are not direct representations of any particular place but rather compilations, drawing on all the seas she has ever seen. They capture the allure and mystery of the ocean. Their focus is fixed firmly on its brimming expanse, extending to the far horizon and what might lie beyond it, rather than on the shoreline.
Composed in a range of geometric formats – circular, oval, rectangular, square – and titled accordingly, the paintings are built up to a thick impasto that freely overflows the edges of the supports. Their swept, rhythmic surfaces evoke the endless tidal movement of the sea with its dramatic shifts of mood, from brooding turbulence to utter calmness.
Mary Lohan was born in Dublin in 1954. She studied painting at the National College of Art and Design, Dublin and was a member of the Board there from 1996 to 1999. She was awarded the Taylor De Vere Award at the 1991 RHA Annual Exhibition and 1st Prize at the Claremorris Open Exhibition in 1992. In 2001 Lohan was elected to Aosdána and in recent years she has shown her work at the National Gallery, Chester Beatty Library and Irish Museum of Modern Art, Dublin; Ballinglen Arts Foundation, Mayo; Vangard Gallery, Cork; Hamilton Gallery, Sligo; and Fenderesky Gallery, Belfast. Her work is represented in the collections of the Department of the Taoiseach, AIB, OPW / State Art Collection, and in private collections in Ireland, United Kingdom, Europe, Japan and America.
Friday 9 May – Saturday 31 May 2014
16 Kildare Street, Dublin 2
Telephone: +353 1 676 6055
Opening hours / start times:
Monday 10:30 - 17:30
Tuesday 10:30 - 17:30
Wednesday 10:30 - 17:30
Thursday 10:30 - 17:30
Friday 10:30 - 17:30
Saturday 11:00 - 15:00
Admission / price: Free