Mary Conlon and James Merrigan in discussion
Wednesday 30 November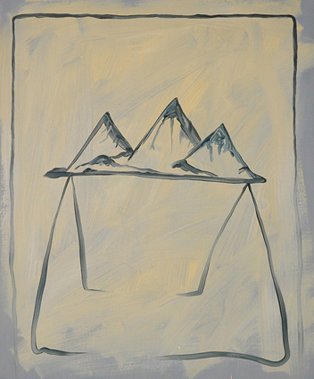 Wednesday 30 November at 7pm
Mary Conlon and James Merrigan both contributed texts to Spectral Gallery, the publication that accompanies our current exhibition Damien Flood's History of the Visitation. To coincide with this exhibition Mary Conlon and James Merrigan will be in discussion in Green On Red Gallery on Wednesday 30 Nov at 7pm (sharp). All are welcome.
Mary Conlon is a curator based in Limerick. From 2009 to 2011, she was the Shinnors Research Scholar at Limerick City Gallery of Art, where she initiated the on-going Six Memos project. She is currently undertaking a PhD in curatorial studies at Limerick School of Art and Design. She is Director/Curator of Ormston House and a member of the Italian curatorial project vessel and of the board of directors of eva International.
James Merrigan is an artist and art writer. Recent exhibitions are 'So Long Roger Fenton…' at Monster Truck Gallery and 'Futures 11' at the Royal Hibernian Academy. Future exhibitions include a solo project work at the Mermaid Arts Centre Bray and a solo show at the LAB 2012. As an art writer Merrigan has written for Circa Magazine, Visual Artists Newsletter (VAN), a-n magazine, Aesthetica Magazine. He is the founding editor of +BILLION- journal and 2011 Mermaid Arts Centre Writer in Residence. Merrigan is the recipient of the 2010/11 Irish Residential Studios Award at the Red Stables, the Visual Artists Ireland Writer Award 2011, and the Arts Council Project Award 2011. Currently he is developing the critical art newspaper 'Fugitive Papers' with Michaële Cutaya.
History of the Visitation is Damien Floods second solo exhibition at Green On Red. Since Counter Earth in 2009, Flood's practice has evolved in rich and fascinating ways. He continues to push and exploit the potential of his primary medium, oil on canvas, with intriguing results. His world is expanding in alien directions, apparently devoid of natural light or sometimes about that light. Equally it is unashamedly and indulgently caught between, on the one hand, an abandon born of an abstract use of his medium and, on the other, maintaining one limb in the " real " world. The boundary between "real" and fictional, however, is no longer meaningful in Flood's vocabulary.
Never one to stay in one place for too long, he has for The History of the Visitation, produced a corpus of paintings and objects that is as diverse, unpredictable and open as ever. No one overriding theme emerges. Flood's world or New Geography is, at times, microscopic in its focus but in spite of or even because of this can very quickly lead us to an imaginary vast expanse. All is never as it seems or straightforward or even stationary in Flood's work. In Dot Dot Dot and Rock and Cylinder, for example, one painting supplants another in a reversal of strategy or is it a doubling up of narratives. No one reading is possible or, if you go by previous belief systems and bodies of knowledge, like the one quoted by the artist : the world according to the now discredited 17th Century theoretician and cleric Athanasius Kirchner, desirable. As Flood tells us :
Some areas of this new place appear pulled apart – mountains sit on an examination bench as though a scientist has been hungrily excavating in search of hidden answers. Meanwhile traces of other explorers are suggested by the 'Galilean Eye' peering as new plant life emerges from the barren ground. Water forms structural pillars and rocky mountains melt into a microscopic pool. Not all is as it appears and more questions surround how we see the world through the reading of paint.
Complicating and richly embellishing these paintings is the artist's use of sharply drawn line or outline that pulls the inchoate shapes and forms together with mastery and mystery. Multiple styles and techniques jostle for primacy in Flood's artistic language so that the viewer is regularly surprised and constantly engaged and expectant.
The next exhibition at the gallery is a group gallery artist exhibition of new work opening on December 15, from 6 – 8pm, and continuing until 21 Jan 2012.
Image: Damien Flood: Bench, 2010, oil on cotton, 60 x 50cm
Wednesday 30 November
Spencer Dock
Park Lane, Dublin 1
Telephone: +353 1 671 3414
Admission / price: Free