Mary Burke: Spaces and Places: Imagined Spaces
Thursday 20 January – Saturday 19 February 2011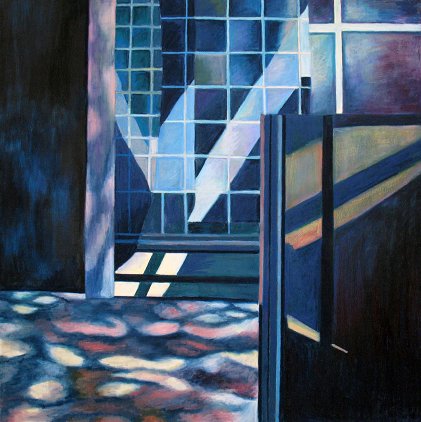 Presented by Tallaght Community Arts
Spaces and Places is a project in two parts;
Imagined Spaces is a series of paintings by artist Mary Burke, which have developed from collages made from the disassembling and reassembling of photographic studies, combined with found materials from magazines and other mass-produced print material.
The finished paintings evoke childhood memories or dreams, incorporating familiar details such as windows, steps, and pathways, which help to create a sense of interior and exterior. The end result is a series of imagined spaces.
Mary Burke (b. 1959) graduated with a BA in Fine Art from NCAD in 1982. She has exhibited extensively both in Ireland and abroad, and her work is included in many public and corporate collections, including The Arts Council, Ulster Bank, and the Dublin Airport Authority.
Image: Mary Burke:
Thursday 20 January – Saturday 19 February 2011
South Dublin Arts Centre
Tallaght, Dublin 24
Telephone: +353 1 451 5860
Opening hours / start times:
Monday 10:00 - 18:00
Tuesday 10:00 - 18:00
Wednesday 10:00 - 18:00
Thursday 10:00 - 18:00
Friday 10:00 - 18:00
Saturday 10:00 - 18:00
Admission / price: Free