Mary Burke: At Home on the Farm
Friday 26 February – Sunday 27 June 2021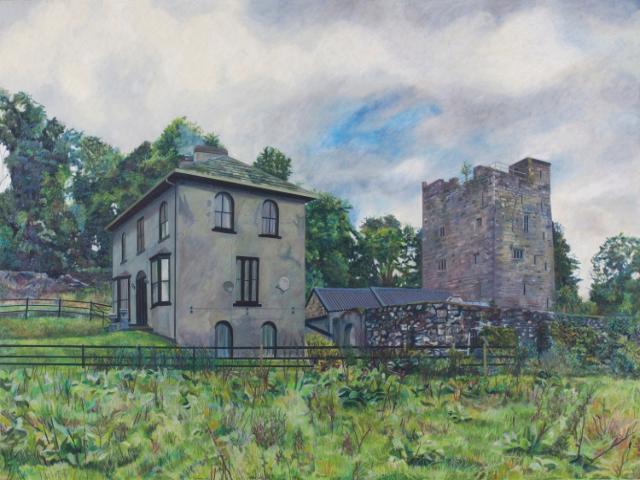 ――― Venue + online ―――
LCGA is delighted to extend the exhibition At Home on the Farmwhich is an LCGA commissioned exhibition from painter, Mary Burke.  The exhibition consists of a series of paintings that reflect the working life of farmers in County Limerick, part of the Golden Vale.  Over the past two years, Mary has documented five farms of different scales, with different approaches to how they make their living.  This is not a political diatribe nor is it a romantic view of the Irish landscape, rather it is a raw version of the passion that each of these people have for their farms and their ways of making a livelihood.  It also coincides with a time when there are many changes to farming practices with many concerns about how viable the "family-owned" farm model is.
Viewable at LCGA and also online here.
The exhibition is accompanied by a publication with essays by Manchán Magan & Niamh Nic Ghabhann the exhibition also featured an online programme of events, further information available  www.limerickgallerypages.com
---
Due to the ongoing Covid-19 restrictions LCGA is currently closed to the public but a Virtual Tour of exhibition will be availble from 26 February 2021, with a programme of events taking place on line. Viewable online here.
"Few artists have managed to capture the timeless integrity and fraught complexity of agriculture at this transitional time. Artist, Mary Burke's work in At Home on the Farm will remain an eloquent testament to farming in Ireland at a seminal point in its 6,000 year existence" Manchán Magan
In this first exhibition of the new year at Limerick City Gallery of Art (LCGA) ,  Mary Burke's paintings of her experience on five Limerick farms take centre stage in an exhibition of work called At Home On The Farm.  For four decades, Mary Burke has captured suburban Dublin scenes in oil pastels in a style that honours the quiet, still, suburban sanctuary spaces of Irish homes and housing estates.    These new works at LCGA called At Home on the Farm represent a bold new departure: after 40 years of diligently documenting the urban and suburban, Burke has made a radical shift in direction.
In part the shift to the agricultural was prompted by a project which she undertook in Stradbally, Co Laois in 2015 with her gaze drifting to the surrounding landscape.  When LCGA invited her to work in the county, she found herself out in the farmyards where nature got a hold of her. The result is At Home on the Farm.  Her engagement with the individual farm families made an impact on Mary Burke and she speaks with genuine passion of them all.
"Take for example John Macnamara and  the quality of his grassland," she says. "Or, the wonderful treasure trove of curiosities that Morgan Murphy has amassed in his barns and outbuildings. It was impossible for me not to document and celebrate these things."  She talks with equal enthusiasm about all the farms she visited; from Dan Browne's majestic barn and traditional farm buildings in Thomastown, to June Danaher's fine pedigree Limousine suckler calves in Shanagolden and David Ryan's timeless lakeside farm at Lough Gur abutting a 15th century castle.
The exhibition depicts the facets of each farm that were most important to the individual farmers or that made a particular visual impact on her, such as Macnamara's cattle, milking parlour and grass pasture, which exemplify the core priorities of his working life.  "In truth, I just wanted to capture the essence of their farms," she says. "There's been a tendency in the past to romanticise the Irish landscape. I wanted to avoid that. These are working farms that are functional and lived-in. I wanted to convey a sense of the industrial farm infrastructure against the natural landscape."
Burke's work enabled her 'to escape my bubble and to see how others live their lives – to document the truth of their existence. It brought home to me the sheer variety of life on this island. It's something I'm eager to engage more with in future work."
For many, At Home On The Farm will resonate in a deeply personal way.  LCGA Director/Curator Úna McCarthy in welcoming this very special exhibition to the gallery, said
'My roots are semi-rural with most of my childhood spent at my maternal grandparent's home in Feenagh, Co. Limerick, however, I am a "townie", and have lived most of my life in an urban setting but, imbued with a deep understanding of the whims and demands of a farming life. It was wonderful to receive Mary's proposal as it chimed with what I wanted to achieve in the Gallery where the rural and urban could meet in an exciting and relevant way.  This objective has most definitely met with this exhibition, At Home on the Farm, which I hope will further a discussion on the cultural and social importance of farming in Irish society'
The exhibition will launch on Friday 26 February with the exhibition available on line, followed by an 'In Conversation' event hosted by Manchán Magan who will explore the exhibition with Mary Burke and Dr Niamh Nic Ghabhann (University of Limerick) on Saturday 27 February, further information will available from 26 February 2021.
Check our online programme at www.limerickgallerypages.com
Further details on Mary Burke's web site http://www.maryburke.ie
AT HOME ON THE FARM will be accompanied by a publication with essays & texts by Manchan Magan, Niamh Nic Ghabann,Mary Burke an Úna McCarthy
Friday 26 February – Sunday 27 June 2021
Pery Square, Limerick
Telephone: +353 61 310633
Opening hours / start times:
Monday 10:00 - 17:30
Tuesday 10:00 - 17:30
Wednesday 10:00 - 17:30
Thursday 10:00 - 20:30
Friday 10:00 - 17:30
Saturday 10:00 - 17:00
Sunday 12:00 - 17:00
Admission / price: Free
The gallery is closed on Bank and Public Holidays.