Mary A. Kelly: Chair
Saturday 26 October – Thursday 12 December 2019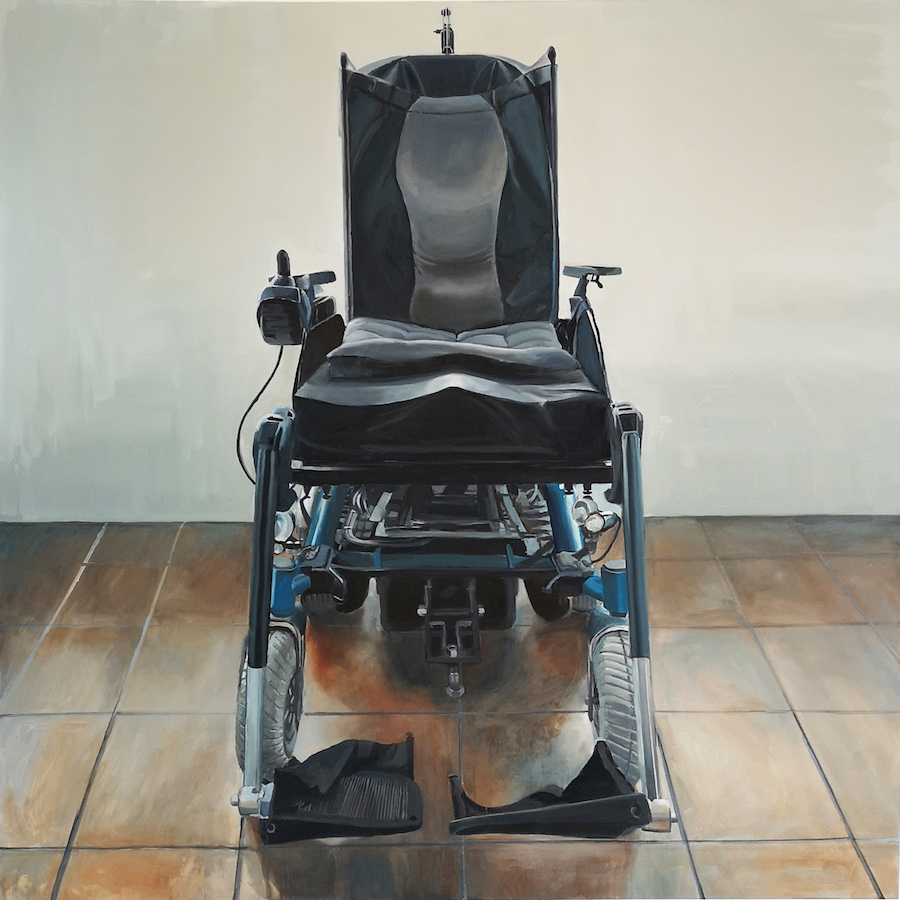 Jack Kornfield in A Path with Heart describes 'taking the one seat in the centre of the room, opening the doors and windows and seeing who comes to visit. When we take the one seat in Buddhist meditation it is said we become our own monastery, we create the compassionate space that allows for the arising of all things including sorrow, loneliness, shame, desire, regret, frustration and happiness.'
The focus of investigation in this new body of work for mid-career artist, Mary A. Kelly, is the chair, armchair, couch, as a physical object in space. It is a resting place, container, location and position. Its position on its own or with another or other chairs is a conversation about relationships with people, objects and self.
Expressions like be seated, take a seat, take one's seat, are something we take for granted today, but this was not always the case. The first chairs in ancient Egypt were supported on representations of the legs of beasts or the figures of captives. It was believed that chairs needed to incorporate natural forms to avoid creating chaos in the universe by constructing an artificial object. The earliest known Greek chair dates back to the 6th Century BC. It was not until the 12th Century that chairs became widespread in China. For most civilizations prior to the Renaissance, the use of the chair was mostly confined to high office. The rapid evolution of industrialized techniques saw a proliferation of forms and styles during the 20th Century. Their commonplace use has evolved relatively recently.
Mary A Kelly's interest in this project started many years ago while taking part in a group psychotherapy process. She says 'the simplicity of the room and the depth of life experienced in that space led me to explore many similar rooms with my camera. Eventually my focus became the chair as a construct aside from life and a witness to life. The exploration extended to chairs beyond the psycho-therapeutic rooms into other living rooms. The intimate space of the psycho-therapeutic experience opens out into a broader public space and life itself. Eventually the paint brush took the place of the camera.'
A chair or seat is a piece of furniture that holds and supports the human body. In these paintings, the body is absent but implied. The intention is to create a pause or resting point for the artist and the viewer.  The gallery, not unlike the secular church, stands as a temple between life and art. The sound piece, a recording of the dawn chorus, is the natural orchestration of birdsong with the advent of dawn after dark and spring after winter. It is a homage to the natural world, its increasing frailty and our unknown future.
Mary A. Kelly is an artist living and working in Wicklow, Ireland. She has worked extensively with lens based media and installation and has exhibited nationally and internationally, including New York, Chicago, Paris, Berlin, Dusseldorf, Helsinki and Brussels. Solo exhibitions include The Landing, Royal Hibernian Academy, Dublin; asylum, Linen Hall, Castlebar, Co. Mayo; Father & Child, Galerie Voss, Düsseldorf; Atelier + Kitchen – Laboratories of the Senses, Martha Herford Museum, Herford, Germany;  I believe help my unbelief as part of 7.42, Lapua Art Museum, Finland and The Cable Factory , Helsinki. Selected group shows include Eurojet Futures, RHA; EV+A, Limerick; Perspective, Ormeau Baths, Belfast; Intimacy in Bathing, Kunstmuseum, Ahlen, Germany; Another Island, Contemporary Irish Art, American Irish Historical Society, New York; Sacred Secrets, Custom House Gallery, Westport as part of Kathleen Lynn, Insider on the Outside.
She is the recipient of many awards including Irish American Arts Award in New York 2006 and Student of the Year award in 1998. She has a Psychology and Philosophy degree from UCD, 1977, fine art and film degrees from IADT, Dun Laoghaire, 1997 and 1998 and an M.A. Fine Art from the National College of Art and Design, 2003.
Mary A Kelly won this year's Royal College of Surgeons Art Award in conjunction with the Irish Times as part of the RHA Annual for her painting titled Add and subtract the marks, poke my fingers and even my head all the way through. Her winning painting focuses on a chair as a physical object, to spark a conversation about relationships with people, objects and self. It was selected from more than 500 works on display at the 189th RHA Annual Exhibition 2019.
The Exhibition and Tour
Chair: Mary A. Kelly is a solo exhibition curated and initiated by Aoife Ruane, Director, Highlanes Gallery, Drogheda (9 February – 13 March) and presented in partnership with Uillinn: West Cork Arts Centre. It toured to the Custom House Studios and Gallery, Westport (6 – 30 June) and is on exhibition at Uillinn from 26 October to 12 December. The exhibition was granted an Arts Council Touring & Dissemination Award. The exhibition is generously sponsored by Anglo Printers, Drogheda, one of Ireland's leading and innovative print solutions providers.
Saturday 26 October – Thursday 12 December 2019
Skibbereen, Co Cork
Telephone: +353 28 22090
Opening hours / start times:
Monday to Saturday, 10am to 4:45pm
Admission / price: Free