Martin Healy: Last Man
Friday 31 August – Saturday 3 November 2012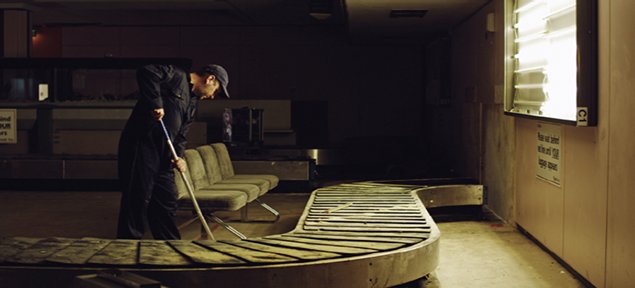 Crawford Art Gallery is delighted to present Last Man by Martin Healy, as part of its ongoing screening series by Irish and international artists.
Filmed in the de‐commissioned Cork International Airport Terminal, Last Man (2011) portrays a janitor charged with the repressive task of maintaining the empty building. Referencing cinematic structures the film follows the janitor through, what are perceived to be, his daily tasks of checking the quality control of luggage trolley wheels and cleaning vast areas of floor. The building seems to be near functional but for the eerie lack of passengers and aircraft.
The immaculate cinematographic composition and enigmatic soundtrack creates a compelling film that draws on Healy's continued interest in early science fiction and his investigations into belief systems. The title Last Man is taken from an apocalyptic novel by Mary Shelley (1826), in which the world is decimated by a plague in the last decades of the twenty‐first century. Healy echoes Shelley's indictment of man's reliance on a technological landscape and probes the collective psychological state, reflected through the isolated individual worker who nostalgically re‐creates a model aeroplane during his 'down‐time'. In a period when existing and new economies are consuming increasing levels of energy, Healy's film conveys a fear of the future and suggests pertinently of the need to fear the present.
Martin Healy (b. 1967) has participated in numerous national and international exhibitions including Apposite Extravaganza: Cheating Progress, Exchange House, Galway, Ireland (2012); Cutting a Door, Eastlinks Gallery, Shanghai, China (2012); Its all true, Morono Kiang Gallery, Los Angeles, USA (2011); Terminal Convention, Liverpool and Cork (2011); Spelling the Myth, The Agent Ria, Edinburgh Art Festival (2011) and The Inhabitant, Temple Bar Gallery and Studios, Dublin (2011) and Facsimile, Lismore Castle Arts, St Carthage Hall (2011).
Last Man (2011) Single Channel HD Video (8.23 minutes) by Martin Healy was commissioned by the National Sculpture Factory, Cork & Static Gallery, Liverpool as part of Terminal Convention, Cork 2011. The film is a recent acquisition to the Crawford Art Gallery's Permanent Collection.
Artist Talk: Martin Healy will discuss Last Man and his practice on Thursday 11 October, 6pm
Friday 31 August – Saturday 3 November 2012
Emmet Place
Cork
Telephone: +353 21 4805042
Opening hours / start times:
Monday 10:00 - 17:00
Tuesday 10:00 - 17:00
Wednesday 10:00 - 17:00
Thursday 10:00 - 20:00
Friday 10:00 - 17:00
Saturday 10:00 - 17:00
Admission / price: Free