Martin Gale: Some Recent Paintings
from 13 March 2020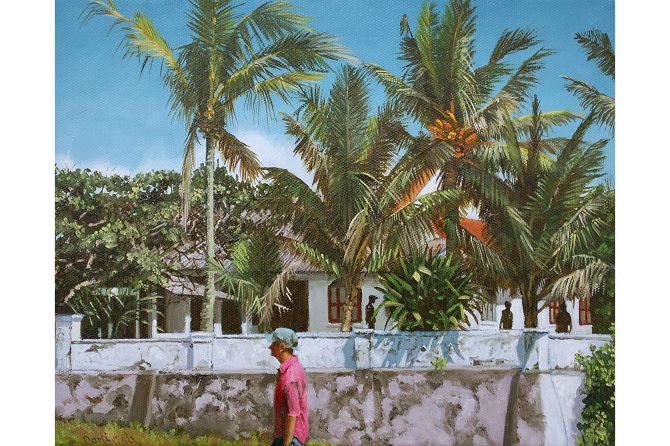 ――― Viewable online ―――
Some Recent Paintings brings together several ongoing concerns within Martin Gale's practice, as well as introducing new ones.
Viewable online here.
His works in oil on canvas and watercolour have long focused on people and places of personal significance, usually centering on the in-between landscape surrounding his adoptive homeplace on the far side of the Dublin Mountains. Here it is augmented by a series of horse studies (playful variations on the theme of the formal art historical horse portrait), people involved in the cycle of migration and return, birds (as messengers and harbingers), and a new body of work informed by time spent in Sri Lanka.
As always, there is a sense that the scene depicted in the painting is not giving the viewer the full story. There is more to the tale, glimpsed just beyond the picture frame. The mildly unsettling open-ended narratives Gale's works suggest allow the viewer to insert themselves into the work – it is we who meet the lone man walking towards us on a country road, who come across an owl perched precariously on a fence post, and feel the tropical sun on our backs amidst the lush vegetation of Sri Lanka. But what lies around the corner?
Born in Worcester in 1949, Martin Gale moved to Ireland as a child and studied Painting at the National College of Art & Design, Dublin from 1968 to 1973. In 1982 he was elected a member of Aosdána and in 1996 he became a member of the Royal Hibernian Academy. A former Board member of the National Gallery of Ireland, he represented Ireland at the Paris Biennale in 1980 and his paintings have been included in several major surveys of contemporary and 20th century Irish art, both nationally and internationally. In 2013, Gale was awarded an Honorary Doctorate in Fine Art from NUI Maynooth. His work is represented in major public collections throughout the country, including The Arts Council / An Chomhairle Ealaíon, AIB, Bank of Ireland, OPW / State Art Collection, ESB, Irish Museum of Modern Art (IMMA), Chester Beatty Library, and Crawford Art Gallery, Cork. He lives and works in Co. Kildare.
Image: Martin Gale, Galle Fort (Study), 2020, oil on canvas, 24 x 30 cm
from 13 March 2020
16 Kildare Street, Dublin 2
Telephone: +353 1 676 6055
Opening hours / start times:
Monday 10:30 - 17:30
Tuesday 10:30 - 17:30
Wednesday 10:30 - 17:30
Thursday 10:30 - 17:30
Friday 10:30 - 17:30
Saturday 11:00 - 15:00
Admission / price: Free