Martin Gale: Bloodlines
Friday 11 May – Saturday 2 June 2018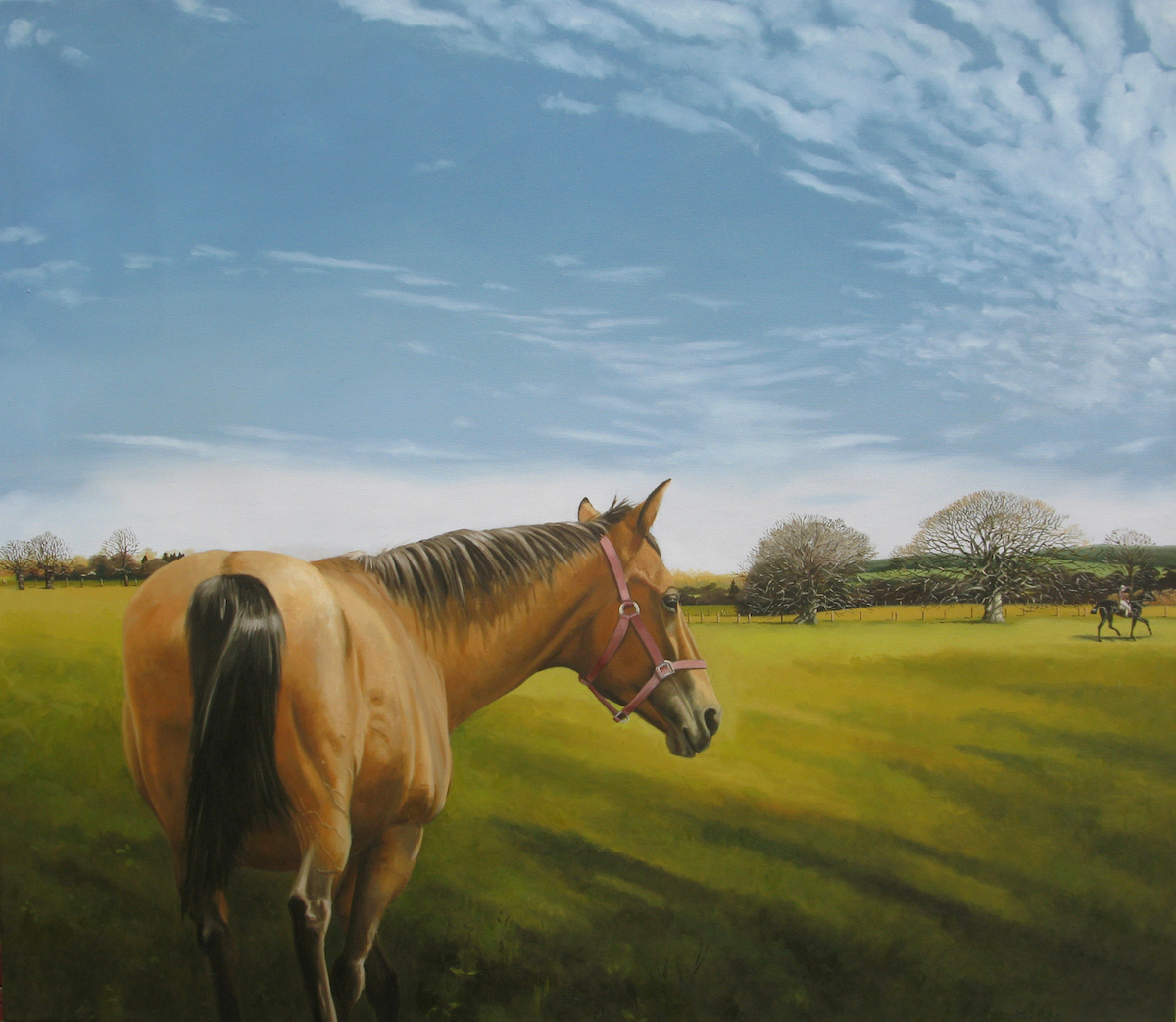 Artist's Talk: Wednesday 30 May 2018, 1pm. No booking required, all welcome.
Bloodlines mines a previously unexplored aspect of the autobiographical thread that has woven its way through Martin Gale's paintings from his earliest works to the present day. While underpinned by his usual references to people and places of personal significance, this body of work represents a shift away from direct depictions of these recurring characters, instead focusing on birds and animals and, in particular, his family's long-standing connection with horses.
Gale and his brother are the first generation of their family to not be involved with riding, racing, breeding, showing or backing horses. Despite coming from equine stock and living for many years in the countryside he had felt somewhat removed from the business that engaged so many of his forebears. In Bloodlines Gale attempts to even the balance somewhat by painting horses. The resulting works are not formal portraits of thoroughbreds like those painted by his grandmother, and George Stubbs before her, but pictures of various real and art-historical horses in lush Leinster fields that accommodate this particular aspect of the artist's familial heritage, albeit on his own painted turf.
Born in Worcester in 1949, Martin Gale moved to Ireland as a child and studied Painting at the National College of Art & Design, Dublin from 1968 to 1973. In 1982 he was elected a member of Aosdána and in 1996 he became a member of the Royal Hibernian Academy. A former Board member of the National Gallery of Ireland, he represented Ireland at the Paris Biennale in 1980 and his paintings have been included in several major surveys of contemporary and 20th century Irish art, both nationally and internationally. In 2013, Gale was awarded an Honorary Doctorate in Fine Art from NUI Maynooth. His work is represented in major public collections throughout the country, including The Arts Council / An Chomhairle Ealaíon, AIB, Bank of Ireland, OPW / State Art Collection, ESB, Irish Museum of Modern Art (IMMA), Chester Beatty Library, and Crawford Art Gallery, Cork. He lives and works in Co. Kildare.
Friday 11 May – Saturday 2 June 2018
16 Kildare Street, Dublin 2
Telephone: +353 1 676 6055
Opening hours / start times:
Monday 10:30 - 17:30
Tuesday 10:30 - 17:30
Wednesday 10:30 - 17:30
Thursday 10:30 - 17:30
Friday 10:30 - 17:30
Saturday 11:00 - 15:00
Admission / price: Free