Mark Swords: Tribuna
Friday 26 November 2021 – Sunday 23 January 2022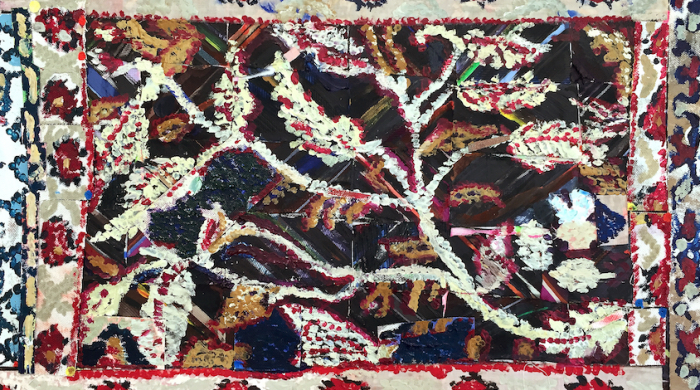 ――― In venue ―――
Tribuna, the title for this exhibition of new works by Mark Swords, was inspired by a visit the artist made to an octagonal, red walled room, the 'Tribuna' of the Uffizi Gallery in Florence.
Swords visited this gallery some twenty years ago but has no particular memory of the Tribuna from that trip. "I wish now I could have been there with my younger self to admonish him… Pay attention to this room, just stand there, in the centre of the space and take it in… let a memory of this place form in your mind.
There is a painting depicting theTribuna of the Uffizi from the late sixteenth century by Johann Zoffany. I'm not sure when I first saw an image of this painting but it was certainly before I conceived of this exhibition at the Royal Hibernian Academy. The painting depicts three of the eight walls of The Tribuna. Each wall is covered from floor to ceiling with ancient and renaissance artworks from the Medici's collection. I remember finding the painting fascinating due to the sheer amount of visual information it describes. In the foreground, some twenty visitors sit and stand beside sculptures, rugs and unframed paintings discussing the artworks in what I always imagined was the highlight of their 'Grand Tour'. Several sculptures hide amongst some of the visitors and loom above others. Above these sculptures twenty-three masterpieces fill the upper part of Zoffany's painting. In every inch and every sense, the painting is full. Each painting, sculpture and group of visitors are involved in their own small story. None of these stories seem to be connected and yet, here they all are, brought together. The possibilities of what could happen amongst all this information is exciting to me". Mark Swords, Nov 2021.
Mark Swords (b. 1978, Dublin, Ireland) studied at the National College of Art and Design, Dublin. He lives and works in County Wicklow, Ireland. Swords has exhibited his work widely, both nationally and internationally and is represented in numerous collections. Recent exhibitions include Portico, 2021, a two person show with Tanad Aaron at The Complex, Dublin and Tauchgang, 2019, a group show at Galerie Christian Lethert, Cologne, curated by Fergus Feehily and Daniel Lergon. Lost Highway Guy, 2018, was Swords' fourth solo show at Kevin Kavanagh Gallery, Dublin.
His previous public solo show in Ireland was The Living and the Dead, 2017, at Temple Bar Gallery and Studios, Dublin. Other notable exhibitions include, VOLTA Basel, 2014 and I won't say I will see you tomorrow, 2013, a group project and multivenue exhibition based on the writings and architecture of Ludwig Wittgenstein curated by Aoife Tunney. Swords was the recipient of the AIB art prize in 2010, as a result of this in 2012 he staged a solo exhibition in Wexford Arts Centre and published a book both titled Mosaic. Also in 2012 his work was included in several important group shows including: Painting Now, Ron Mandos Gallery, Amsterdam and Making Familiar, Temple Bar Gallery + Studios, Dublin, curated by James Merrigan and Robert Armstrong. Other group exhibitions include Futures, 2009, RHA Gallery, Dublin, selected by Patrick T. Murphy and Look Again, 2009, Purdy Hicks, London curated by Aidan Dunne. His work has been included in both Creative Ireland: The Visual Arts [Contemporary Visual Art in Ireland 2000 – 2011] curated/edited by Noel Kelly & Seán Kissane and Visual Artists Ireland 2011 and A Dictionary of Living Irish Artists, Robert O'Byrne, Plurabelle, 2010.
Image: Mark Swords, The Garden (detail), 2021, Acrylic and various materials on canvas, 35 x 46 cm, image courtesy of the artist.
Friday 26 November 2021 – Sunday 23 January 2022
15 Ely Place, Dublin 2
Telephone: +353 1 661 2558
Opening hours / start times:
Monday 11:00 - 17:00
Tuesday 11:00 - 17:00
Wednesday 11:00 - 19:00
Thursday 11:00 - 19:00
Friday 11:00 - 19:00
Saturday 11:00 - 19:00
Sunday 14:00 - 17:00
Admission / price: Free