Mark O'Kelly: Figure of 8
Thursday 7 April – Saturday 30 April 2011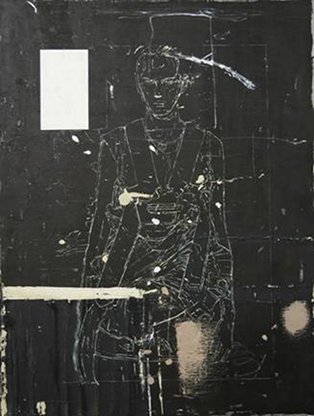 When I am alone, it is not I who am there, and it is not from you that I stay away, or from others, or from the world. I am not the subject to whom this impression of solitude would come – this awareness of my limits; it is not that I tire of being myself. When I

am alone, I am not there.- Maurice Blanchot, The Space of Literature.
This exhibition by Mark O'Kelly describes an engagement with theories of linguistic and figural representation that continue his practice of repurposing cultivated imagery. Most literally, these paintings explore the concept of the linguistic form of the unconscious and the acts of transformation, substitution and negation inherent in such a concept.
Thematically bound by the figure of eight, and by its motivated absence, each work in this series contributes to an original authorial system of ordinal representation. That is, each work can be considered its own sign within a structured, invented model and each work bears weight in a shared symbolic structure. The implications of such a model – and of broader theories of signification and condensation – becomes metonymically represented in these forms.
Within this system, as in the unconscious, there is inevitably fracture and slippage. In this sense, the literary and poetic figures of Maurice Blanchot and Elizabeth Smart most visibly punctuate the work. Similarly in the infinite regress of the figure of eight there is an implication of an always-there presence bearing along its concomitant dialectical absence. In the textual quotations and literary fragmentation we return to the position of the auteur, signification and audience. Within these acts of displacement, in the arc of unconscious movement, the site of proper discourse remains the unconscious, remains a dream state.
Within the boundaries of these thematic and formal concerns, these paintings progress O'Kelly's sustained engagement with theories of representation, reproduction and quotation. Situated within his wider body of work, these paintings demonstrate a structural movement towards an engagement with questions of cognitive representation and the psychological poetry of the image.
Mark O'Kelly (b. 1968) lives and works in Dublin and Limerick. Recent shows include: Cinema Impero at Occupy Space, Limerick, Leaders and Followers at Temple Bar Gallery , Dublin in 2010; Unconscious at The Black Mariah, Cork in 2009; Mark O'Kelly at Kevin Kavanagh, Selective Knowledge at National Bank of Greece Cultural Foundation, organised by ITYS, Athens in 2008 and Mark O'Kelly & Stephen Loughman at Galway Arts Centre in 2007; Other Visions: Representation in Contemporary Irish Painting and Photography, selected by Aidan Dunne at Purdy Hicks, London in 2006.
His work is represented in many collections, both private and public in Ireland and abroad including The Arts Council of Ireland, AIB Bank, Bank of Ireland, Boyle Civic Collection, Limerick City Gallery of Art, AXA Insurance, Office of Public Works, Microsoft and University College, Dublin.
Thursday 7 April – Saturday 30 April 2011
Chancery Lane
Dublin 8
Telephone: +353 1 475 9514
Opening hours / start times:
Tuesday to Saturday 11am – 5pm
Admission / price: Free