Mark Manders: Two Interconnected Houses
Friday 10 June – Wednesday 13 July 2011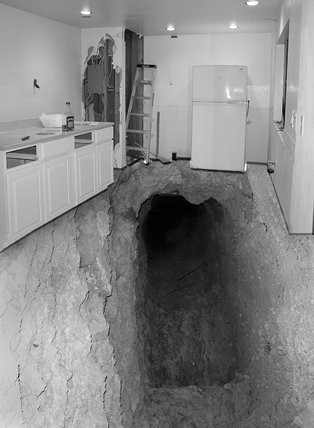 Opening reception Thursday 9 June at 6pm
Mark Manders, who first exhibited at the Douglas Hyde Gallery in 1997, shows regularly at major museums around the world. 'Two Interconnected Houses', a slide projection composed of photographs of the interiors of two domestic buildings that are connected by subterranean tunnels, is an important recent work that encapsulates many of the key elements of his practice. The images lead the viewer through neglected rooms, surreal juxtapositions, grimly poetic images, and apparently abandoned studio spaces filled with collected objects and ephemera. Joining the two houses and, by implication, the narrative, are the deep black tunnels, which infuse the whole with an almost palpable sense of absence and foreboding.
The Douglas Hyde Gallery gratefully acknowledges the help and support of the artist and of Frank Demaegd of Zeno X Gallery, Antwerp.
Artist's Talk
Mark Manders will give a talk on his work.
Friday, June 10, at 1:15pm
There will be 40 seats; please contact the Gallery in advance to reserve a place.
Talks
Introductory talks on the Mairead O'hEocha and Mark Manders exhibitions will be given on Wednesday, June 15 at 1:15pm; and Wednesday, June 29 at 1:15pm.
All are welcome, admission free.
Friday 10 June – Wednesday 13 July 2011
Trinity College, Dublin 2
Telephone: + 353 1 896 1116
Opening hours / start times:
Monday 11:00 - 18:00
Tuesday 11:00 - 18:00
Wednesday 11:00 - 18:00
Thursday 11:00 - 19:00
Friday 11:00 - 18:00
Saturday 11:00 - 16:45
Admission / price: Free