Mark Lewis: The Fight
Friday 3 December 2010 – Saturday 8 January 2011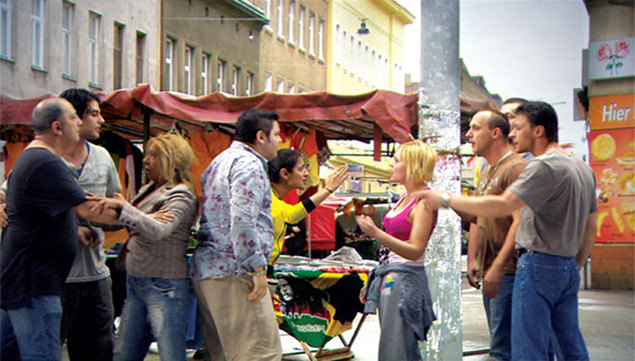 Artist talk: Thursday 2 December, 5:30pm
Crawford Art Gallery presents 'The Fight' by Mark Lewis as part of a series of screenings by Irish and International artists.
'The Fight' (2008) is set against a backdrop of a generic street market and pedestrian traffic. Two groups of merchants are embroiled in the to-and-fro of physical and verbal conflict without apparent resolution. Yet on closer scrutiny, 'The Fight' appears awkward and mis-matched.
Mark Lewis' films explore the language of film, using cinema's spatial and temporal juxtapositions to create fictitious and dislocated scenes in which he often employs the classic film technique of rear projection. Pioneered in the 1920s, rear projection involved shooting a pre-recorded film back projected whilst a group of actors are filmed in the foreground. By dislocating the subjects from the urban environment they appear to be part of, Lewis's work throws up endless questions of context, contemporary life and social conflicts. Ironically, one could suggest that is this dislocation of context which perhaps makes the tensions of 'place' more pertinent.
Mark Lewis is an internationally acclaimed artist working in film-based media (digital and analog), and photography. He represented Canada at the 53rd Venice Biennale (2009) and has had major solo museum exhibitions all over the world including: Hamburger Kunstverein, Musée d'art moderne (Luxembourg), BFI Southbank (London), the National Museum of Contemporary Art (Bucharest, Romania), and in 2007 presented at PS1 as part of the International Projects Series. His work is many collections including the Museum of Modern Art New York, Musée d'Art Contemporain de Montréal, Centre Pompidou (Paris) and National Gallery of Canada.

 Mark Lewis is co-founder and co-editor, with Charles Esche, of Afterall — a research and publishing organisation based at Central Saint Martins College of Art and Design, London. He is a founding and co-editor of Afterall Journal, and the series editor of the One Work, a series of books, published by Afterall Books that examine important single modern and contemporary works of art. Mark Lewis is represented by Monte Clark Gallery (Vancouver), Clark & Faria Gallery (Toronto).
Image: Mark Lewis: The Fight, 2008. High Definition, 5 min 27 sec. Film still courtesy and copyright the artist and galerie serge le borgne, Paris
Friday 3 December 2010 – Saturday 8 January 2011
Emmet Place, Cork
Telephone: +353 21 4805042
Opening hours / start times:
Monday 10:00 - 17:00
Tuesday 10:00 - 17:00
Wednesday 10:00 - 17:00
Thursday 10:00 - 20:00
Friday 10:00 - 17:00
Saturday 10:00 - 17:00
Admission / price: Free