Mark Francis: Echo Vision
Saturday 26 February – Saturday 26 March 2022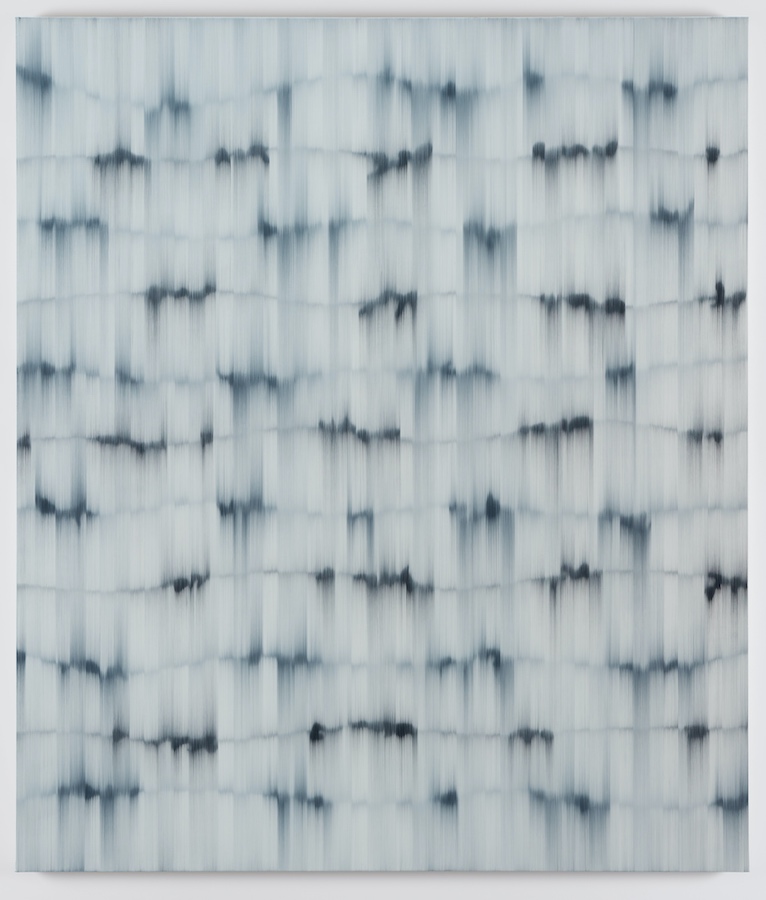 Kerlin Gallery is delighted to announce Echo Vision, an exhibition of painting by Mark Francis.
This exhibition will bring together paintings from the nineties as well as his latest body of work, which take inspiration from the early grid paintings.
The early work showcases Francis' distinct and significant painterly style of the nineties which integrated series of grids and dots to visualise a sense of sonic vibration. In his latest body of work, Francis has created monochromatic paintings which emulate an ambient hum, echoing the muted sound of outer space. Pairing works painted almost thirty years apart, Francis demonstrates the difference in not only his thought process but also the technical detail of his approach.
Mark Francis makes powerful, optically intense paintings that are driven by the revelatory insights of contemporary science. Filled with a sense of movement and vibrational energy, his paintings combine electric colour contrasts with dynamic patterns and precise brushwork. Fields of colour are shot through with orbs or pulsating linear forms that dissolve or disintegrate, mimicking streams of light, sonic vibrations, or graphs of seismic patterns. Francis's longstanding fascination and engagement with science provides rich territory for his painting, from the vast cosmic terrains of astronomy, to the minute and molecular concerns of mycology. Making striking imagery out of what is normally invisible, he explores the visual worlds made accessible by electron microscopes, or sonic data gathered from outer space. But while the feats of manmade technology inform Francis's work, the thing of wonder remains the unknowable quantities beyond their reach. This is what Francis uses his imaginative power and painterly skills to conjure – sparking a tension between order and chaos, knowledge and mystery that is at the heart of his work.
Mark Francis's work has been exhibited at MoMA PS1, Brooklyn Museum; Albright-Knox Art Gallery, New York; Kunstmuseum St. Gallen; Pinakothek der Moderne, Munich; Tate, London and Liverpool; Whitechapel Gallery, Design Museum, and the Royal Academy in London; The Hugh Lane Gallery, Dublin; Museum of Contemporary Art, Helsinki; Kunstmuseum Stuttgart and Hamburger Bahnhof Museum für Gegenwart, Berlin. Recent and forthcoming solo exhibitions include Palazzo Collicola Spoleto, Italy (2022); Kerlin Gallery (2019) and Peninsula Arts Gallery, Plymouth University (2016); recent group exhibitions include Museum Wilhelm Morgner, Soest (2020, 2017); Walker Art Gallery, Liverpool and Kunsthalle Krems, Austria (both 2017). Francis's work can be found in the collections of the Tate and the V&A, London; Metropolitan Museum of Art, New York; de Young Memorial Museum, San Francisco; Museum of Modern Art, Miami and the Saint Louis Art Museum, Missouri.
Mark Francis (b. 1962 Newtownards, Northern Ireland) lives and works in London.
Image: Mark Francis: Transverse Wave, 2022, oil on canvas, 214 x 183 cm / 84.3 x 72 in
Saturday 26 February – Saturday 26 March 2022
Anne's Lane
South Anne Street, Dublin 2
Telephone: +3531 670 9093
Opening hours / start times:
Monday 10:00 - 17:45
Tuesday 10:00 - 17:45
Wednesday 10:00 - 17:45
Thursday 10:00 - 17:45
Friday 10:00 - 17:45
Saturday 11:00 - 16:30
Admission / price: Free