Mark Durkan: I'm astonished, wall, that you haven't collapsed into ruins
Friday 15 November 2013 – Saturday 25 January 2014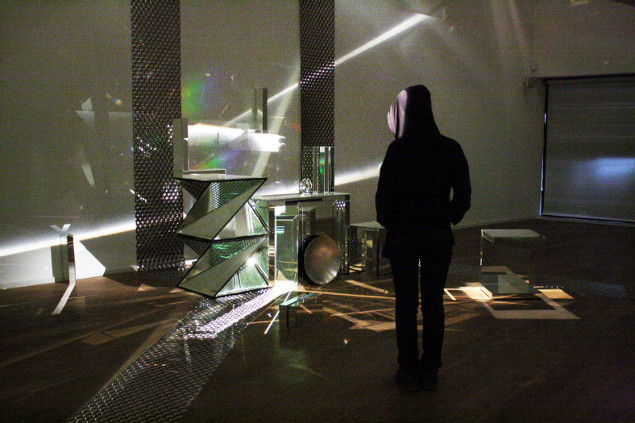 Opening Reception Thursday 14 November 6 – 8pm
In this re-iteration of his exhibition at the Solstice Arts Centre earlier this year, Mark Durkan imagines an Arcadia blighted by a diminished population, yet rich in the superficial trappings of wealth and privilege.
I'm astonished, wall, that you haven't collapsed into ruins looks toward a future fantasy. Within this fantasy, the artist imagines a fate where human population has dramatically decreased, making material opulence abundant while renewing a ritualistic emphasis on the acquirement of vital resources. Using principles of interior design and elements of survival skills, a newly emergent symbolic order is explored. Role-playing within this world, he collects this future's abandoned goods and reuses and revalues them as relics and raw materials for a new age.
I'm astonished, wall, that you haven't collapsed into ruins is a partial quote taken from ancient graffiti found in the remains of the Roman town of Pompeii. For this exhibition, Mark Durkan engages in a process of world building. The gallery space is transformed into an arcane sanctum. It is a space of reflection, devotion and commitment to a future ideal, taking a view of inevitability and philosophical simplicity in an intricate, and at times, uncomfortable, dream.
A newly commissioned essay by Padraic E. Moore accompanies the exhibition.
Artist Biography
Mark Durkan is an artist based in Dublin. His practice involves installation with occasional performance and video that is often collaborative and context led. Durkan's work negotiates the politico-cultural relationship inherent in the building of identities. Drawn to contradiction, he engages in a dichotomous interplay of mutually consentient but contradictory components that are intrinsic to the understanding of identity formation. Employing role playing processes and simulation methodolgies, he engages with the architectural presence of a space and the people that embody it. Focusing on mechanisms of conflict in a paradigmatic process of world building, he transposes people and place with a joint idiom of value and threat.
Mark graduated with a first class honours degree in Fine Art, Sculpture from the National College of Art and Design in 2007 and attended the Fondazione Antonio Ratti in 2008. He was a curator for Transitopia 2008. He has exhibited nationally and internationally, most recently in Solstice Arts Centre, The Museum of the Moving Image in New York, Dublin City Gallery The Hugh Lane, the Kevin Kavanagh Gallery and Visual Carlow. He has also exhibited in 3331 Arts Chiyoda in Tokyo, Fabricca del Vapore and Via Farini in Milan and in the German Chancellery in Berlin.
Friday 15 November 2013 – Saturday 25 January 2014
Foley Street, Dublin 1
Telephone: +353 1 222 7850
Opening hours / start times:
Monday to Friday 10:00am – 6:00pm. We are currently closed at the weekend. Bookings are not necessary.
Admission / price: Free