Marielle MacLeman: In the Course of Rearrangement
Thursday 24 January – Sunday 10 March 2019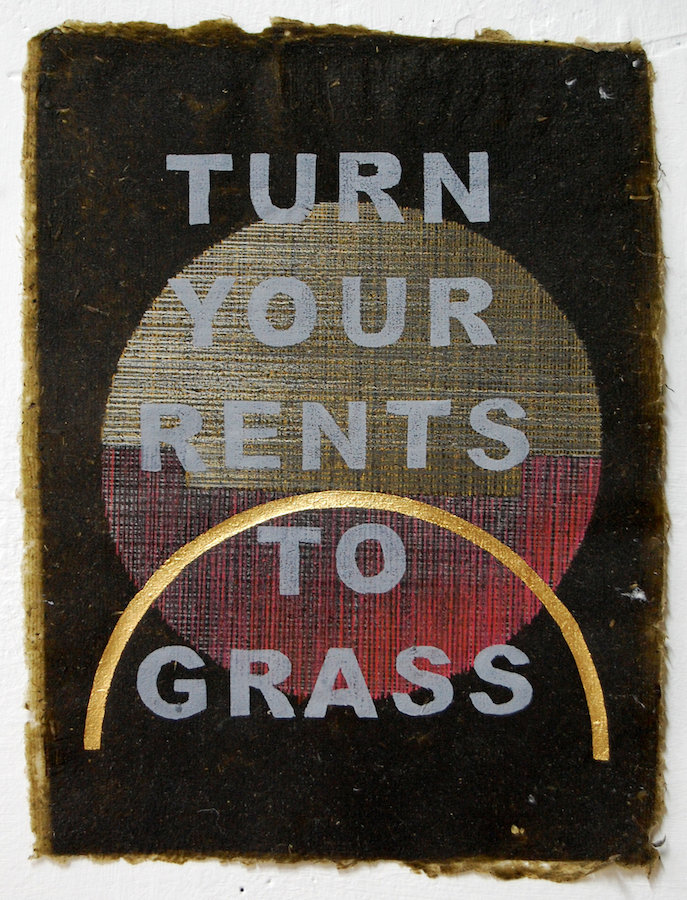 Early in her research, Weaver Park, Dublin's first public park in 100 years, was bordered by construction mesh and the National Museum of Ireland, home to the remnants of The Liberties weaving industry, was itself shrouded in blue netting. 200 years after the Earl of Meath was told a greater return could be made growing grass than collecting weaver's rents, Dublin City Council was developing green spaces for the Buddleja-infested sites of razed apartment blocks as part of the Liberties Greening Strategy. Meanwhile, communities consulted in the process were embarking on a cottage market for Bridgefoot Street Park – social enterprise marking a new phase in the area's reputation for trade.
MacLeman articulates the interrelationship of inner city built and natural environments through materials, embroidering scaffolding mesh using plant dyes and staging them like the banners of guild processions or trade protests in the ground floor of The LAB. An ornamental homage to the street tree incorporates dyes made from bark, and sculptural assemblages, suggestive of market stall wares or museum artefacts, comprise materials grown in a community garden. Buddleja davidii, introduced from China in the late 1800s, is harvested from waste ground to dye a rug made of Irish wool, a by-product largely considered of little value and exported to China for use in the carpet industry. Upstairs at The LAB, MacLeman gilds and 'prints' with the first cut of grass from Weavers Park, the handmade paper commemorating a new era in the site's history.
'In course of rearrangement' was developed during a Dublin City Council residential residency supported by Galway City Council. The exhibition and forthcoming publication were supported by an Arts Council Project Award and will tour to Galway Arts Centre in March 2019.
Born Scotland and based in Galway, Marielle MacLeman studied Drawing and Painting at Duncan of Jordanstone College of Art and Design, Dundee and works across drawing, installation, and participatory approaches. Recent solo exhibitions include The Dock and NUI Galway with group shows in the UK, Ireland, France and Italy. Her projects have been supported by awards from The Scottish Arts Council, Glasgow City Council, The Arts Council of Ireland, and Galway City Council.
Thursday 24 January – Sunday 10 March 2019
Foley Street, Dublin 1
Telephone: +353 1 222 7850
Opening hours / start times:
Monday to Saturday 10am – 6pm. We are currently closed on Sundays.
Admission / price: Free