Maria Simonds-Gooding and Kate MacDonagh: Echoes
Thursday 11 April – Saturday 4 May 2019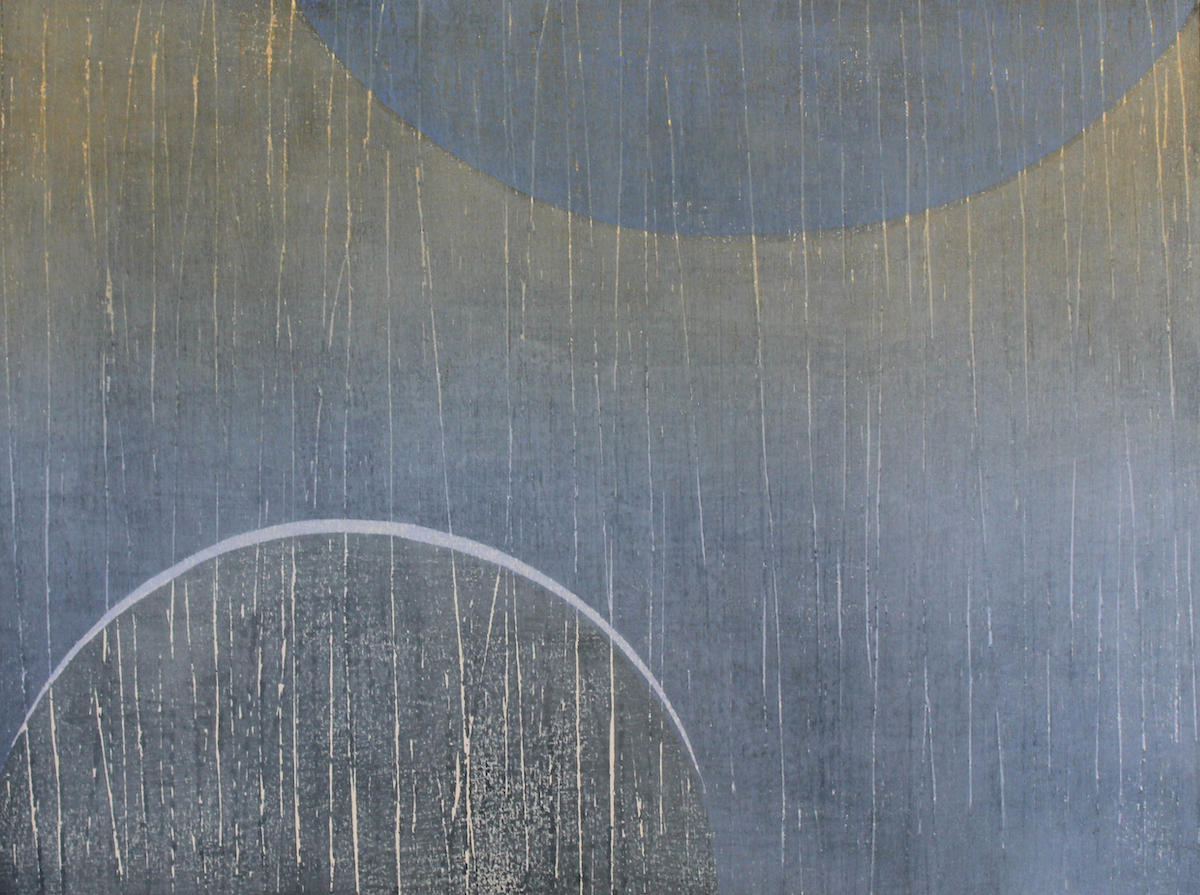 Echoes. The primitive and the refined in the prints of Maria Simonds-Gooding and Kate MacDonagh.
Echoes brings together two artists from polar-opposite positions on the visual arts compass, Maria Simonds-Gooding and Kate MacDonagh, yet their prints sit very happily together. For both artists their work results from serious physical and psychological journeys.
Maria Simonds-Gooding's austere carborundum prints, like the plasterwork paintings to which they are closely related, grew from a journey she began in the 1950s when she settled in Dun Chaoin in, what was then, a remote outpost of the Western world and  following that, to even remoter places in India, Syria, Mali, the Greek Islands and the Himalayas, in search of the most primitive traces of human occupation of the land. Her scrawny but eloquent boundary lines and water holes form isolated abstract compositions in the middle of otherwise barren terrain. They speak to us of what our earliest ancestors had to do to survive, and what many still do in some of the most challenging environments on the planet. While Simonds-Gooding makes art out of their relationship with the earth, the role of art in their lives was very limited and not her immediate concern.
Kate MacDonagh's work, on the other hand, is directly inspired by the cultural refinements of an artistic tradition and practices that have been polished and honed to perfection over centuries, even millennia. Her Sligo background brought her into contact with the plays of William Butler Yeats and through him with the Noh theatre of Japan and its cerebral and exquisite precisions. It seems inevitable that her love of print-making and those encounters with Japanese culture should have taken her to its country of origin where she has spent a number of residencies over the past ten years, immersing herself particularly in the techniques of Mokuhanga, the Japanese form of wood-block printing. Her passion for this art form has been reciprocated in the shape of invitations from the Japanese government to study its techniques and to participate in residencies at MI- LAB, Fujikawaguchiko Studio, and Geidei University in Tokyo, where she has also exhibited. MacDonagh has so steeped herself in Mokuhanga that she now makes her own tools, and a visit to her studio is akin to a visit to a precious Japanese shrine.
But no technique, no matter how accomplished or refined in its execution can be called art unless it is used in the service of formal and meaningful expression. MacDonagh has always leaned towards abstract formal compositions that play with notions of balance, balance between light and its absence, movement that  barely hovers but is not quite still, radiances and visual silences. Her work is concerned with the threatened life of the planet which obliges her to use the most subtle and least intrusive of materials, notably water based inks and pigments, handmade, chemical-free papers and wooden blocks. Using archetypal forms and a subtle palette she conjures up images that speak not only of time present, and time past, but also of time to come, possible  only if everyone cares for the preservation of the planet in their work as she does.
Maria Simonds-Gooding's work teeters on the edge of abstraction, though always retaining an element of figuration,  even if only a patch of lighter space that suggests a hollow in a wider field. She too loves print as a means of expression although her primary interest has been in paintings, plaster and aluminium works. Whatever her medium it is with the oldest form of print imaginable that she is engaged, the imprints of primitive human occupation in the landscape.  She was already established as a painter when she made her first etchings, in Israel and the Netherlands in the 1970s but in all of her work she embodies the advice she received from Adrian Heath, a teacher at the Bath Academy in the 1950s. When her stubborn pencil refused to draw the nude, he told her to draw a line but to reveal its beginning and ending just by the quality of the line. The mark is the print. In her work it takes us on a rich journey, to endangered cultures and histories and to our inner selves and our concerns with what is essential for survival.
It is very clever to bring the work of these two intrepid women together in this exhibition. From opposite ends of the spectrum, and using the most minimal of marks, they seem to embrace a totality of experience that includes time and space. Between them they also embody very different attitudes to tradition and art history, one going towards it with the same degree of passion that drives the other to avoid it. From an Irish perspective they suggest that we have finally arrived at a stage of maturity, looking outward and inward with the same appraising gaze, that Patrick Kavanagh dreamed of when he berated Irish writers for their provincialism in the 1960s. The provincial, Kavanagh, believed was always looking towards the metropolis to direct his critical thinking, and so looked down on the humble parish. The parochial figure on the other hand believed in his parish and trusted to his instincts, scorning the values of the metropolis. Kavanagh argued that
"All great civilisations are based on parochialism … In Ireland we are inclined to be provincial not parochial, for it requires a great deal of courage to be parochial. To be parochial a man needs the right kind of sensitive courage and the right kind of sensitive humility… Parochialism is universal; it deals with the fundamentals." [1]
Kavanagh should have given more attention to the women. Had he been lucky enough, back then, to encounter Kate MacDonagh and Maria Simonds-Gooding he might have been a happier man.
As an addendum to the exhibition, Cló Collective is responding to the work of Simonds-Gooding and MacDonagh.  A group of fine print students from NCAD in their final year, Sophia O'Sullivan, Helen O'Sullivan and Mateja Smic founded Cló collective in 2018. Cló is making new work contemplating the processes, thinking, concepts and aesthetics of two artists work and practices. Last year Cló responded to Brian O'Doherty's Language and Space show in IMMA.
Catherine Marshall
April 2019
[1] Patrick Kavanagh, 'The Parish and the Universe', in Collected Pruse, 1967
Image: Kate MacDonagh, Indigo Moon Series II
Thursday 11 April – Saturday 4 May 2019
off Cope Street
Temple Bar, Dublin 2
Telephone: +353 1 679 8021
Opening hours / start times:
Monday 10:00 - 17:30
Tuesday 10:00 - 17:30
Wednesday 10:00 - 17:30
Thursday 10:00 - 17:30
Friday 10:00 - 17:30
Saturday 11:00 - 17:00
Admission / price: Free
Through the Arch off Cope Street (behind the Central Bank)