Margo Banks: Sovereign Realms
Friday 12 July – Saturday 3 August 2019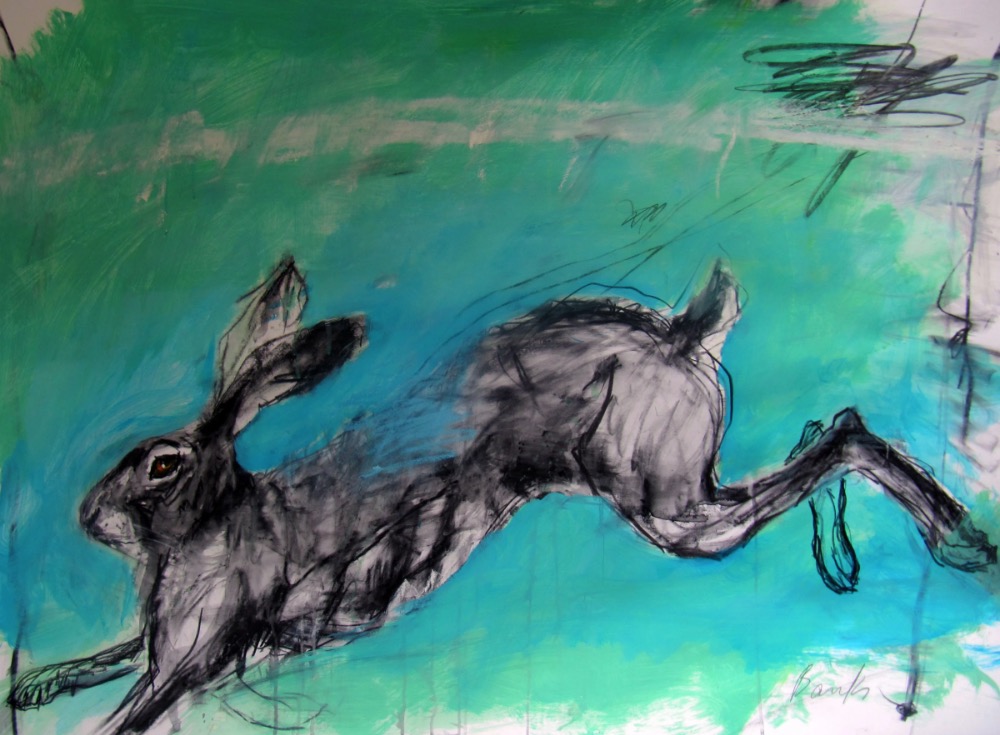 Solomon Fine Art is delighted to host 'Sovereign Realms', the inaugural solo exhibition of new works by Margo Banks. This is Banks's first and much anticipated solo show with Solomon, having joined our stable in 2016.
Sovereign Realms will include a range of Banks's distinctive charcoal, chalk and crayon drawings of Irish wildlife. These lively, large scale mixed media works on the highest quality Fabriano paper owe a huge debt to Banks's experience with modelling as a ceramic artist and sculptor. They are charming and original and while being wholly contemporary in their composition also maintain a timeless quality.
Banks says of her work for Sovereign Realms;
"When we observe wild creatures trespassing through our world, we are often taken by a sense that they enjoy an autonomy and a lucid sense of self that is beyond our appreciation. I often find myself captured by their disinterest in our world – sometimes coveting the freedom they enjoy in their own sovereign realms. It is fascination with this otherness that inspires the works in this show".
Growing up in Clontarf with sweeping views of Dublin Bay, Margo Banks was an artistically precocious child and began oil painting classes at 13 years of age. After a period of fifteen years living in Spain Banks returned to Dublin and Clontarf with her three young children and worked hard at developing her art practice initially working in ceramics and from there moving into bronze sculpture, before returning to drawing and painting.
Banks is a Fellow of the Ballinglen Arts Foundation and has exhibited widely around Ireland including the Royal Hibernian Academy and Royal Ulster Academy. Her work sits in private collections across Ireland, the US, UK and Holland, as well as the Office of Public Works, Enterprise Ireland and Cill Rialaig Arts Centre.
Image: Margo Banks: Tiney Was Not to be Tamed at All, mixed media on paper, 70 x 100cm
Friday 12 July – Saturday 3 August 2019
Balfe Street, Dublin 2
Telephone: +353 86 814 2380
Opening hours / start times:
Tuesday 10:00 - 17:30
Wednesday 10:00 - 17:30
Thursday 10:00 - 17:30
Friday 10:00 - 17:30
Saturday 11:00 - 16:00
Admission / price: Free