Margaret Salmon: Company
Saturday 9 April – Friday 13 May 2011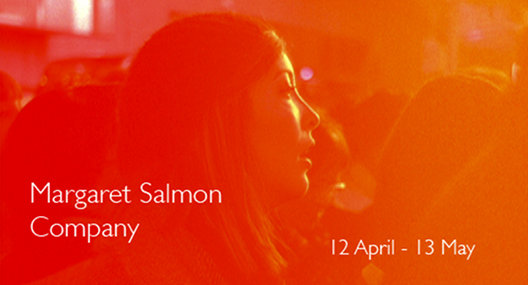 Curated by Susanne Stich
Opening Saturday 9 April 7:30 -10pm; Artist's Talk 8:15pm; all welcome
Void is delighted to present the first exhibition in Northern Ireland by US American artist Margaret Salmon.
Born in 1975 in Suffurn, New York, Margaret Salmon lives and works between Kent, London, and New York. The exhibition shows a selection of early works, including the award-winning Ninna Nanna, and the recent work Times Square (2010).
Salmon studied photography at the School of Visual Arts in New York City and the Royal College of Art, London. Before employing the moving image (primarily 16mm film) as her main medium as an artist, she worked as a photojournalist and editorial photographer.
The early works P.S. (2002), Peggy (2003), Ramapo Central (2003) and Ninna Nanna (2006) portray different individuals in their everyday worlds through complex orchestrations of sound and image (combining black and white with colour). They draw on the traditions of various cinematic movements (e.g. Cinema Vérité, the European Avantgarde and Italian Neo-Realism) and straight photography (e.g. the works of Walker Evans, Helen Levitt and August Sander) but also minimalist story-telling as in the short stories of Raymond Carver. Salmon fuses these influences with an interest in poetry and ethnography, creating portraits that integrate individual detail, universal human themes and a powerful knowledge of the medium's aesthetics.
P.S. explores nuances of personality and relationship through complex layers of sound and image. As a couple engage in an argument, we watch a middle-aged man, presumably the man speaking, working the land and going about his chores, smoking, walking through a forest and watching fireworks.
Peggy follows an elderly woman as she goes about her daily routine. The images are overlaid with the sound of the iconic hymn "Amazing Grace". The frail singing voice is at odds with Peggy's purposeful movements. The film explores the constant repetition of life. It is a classical memento mori, exploring its connection with ritual and ancestry.
Ramapo Central looks into female middle class identity as it depicts the life of a middle-aged receptionist. As we listen to her obliging and courteous rapport with her clients, Salmon documents the woman's private environment and routines, revealing a complex personal world, which contrasts sharply with her professional one.
Ninna Nanna, a triptych of three 16mm films, depicts the experience of three Italian mothers in different stages of early motherhood, filmed in their domestic surroundings and set to a soundtrack of a traditional Italian lullaby, the eponymous "Ninna Nanna". Each of the films celebrates the tenacity and grace of the mothers while acknowledging the contradictions between the iconography of motherhood and the reality of bringing up a child.
The recent work, Times Square (2010), presents an observational account of tourists gleaning mementos from the pulsing square. It was made in the tradition of New York street photography. People who come to this mythical place to witness the spectacle of bright lights and signs are filmed while they are in the 'electronic bubble'. The film deals with the quality of light and glowing colors, particular to Times Square, while following the interactions and responses of members of the crowd to its spectacle of light and image. The lack of a soundtrack emphasizes Salmon's intention to reflect on contemporary cultures of image-making and public posturing.
Salmon's recent solo exhibitions include Afternoons have to do with the World at Office Baroque, Antwerp (2011); Art Statements at Art Basel (2008); the Whitechapel, London (2007); and Witte de With Centre for Contemporary Art, Rotterdam (2007). She also participated in many international group exhibitions, including the 6th Berlin Biennale für zeitgenössische Kunst (2010) and the Venice Biennale (2007). In 2006, she won the prestigious MaxMara Women's Art Prize, in association with the Whitechapel Gallery.
"Margaret Salmon creates stylized portraits that weave together poetry and documentary. Focusing on individual characters in their everyday habitats, her slow-moving films capture the minutiae of daily life, infusing them with gentle grandeur. Salmon portrays the common struggle of common people, constructing documents that represent characters in a social context. Her position is never aggressive nor intrusive, but balances intimacy with respectful distance, creating laconic yet moving works that are at once sober and lyrical, filled with a fragile sense of humanity."
Nicolaus Schafhausen, Witte de With, Centre for Contemporary Art, Rotterdam.
Saturday 9 April – Friday 13 May 2011
Patrick Street
Derry BT48 7EL
Telephone: +44 28 7130 8080
Opening hours / start times:
Tuesday 11.00 - 17:00
Wednesday 11.00 - 17:00
Thursday 11.00 - 17:00
Friday 11.00 - 17:00
Saturday 11.00 - 17:00
Admission / price: Free