Margaret O'Brien: Through A Glass Darkly
Friday 11 August – Saturday 9 September 2017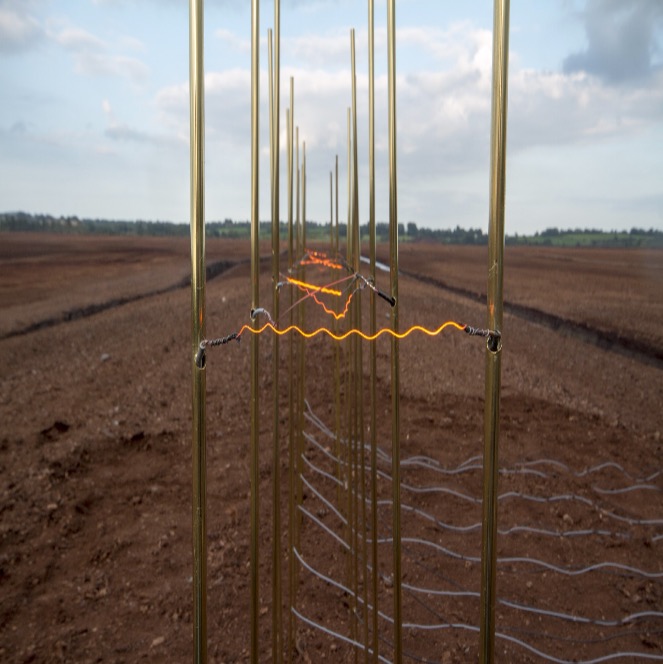 Galway Arts Centre is delighted to present a solo exhibition by Margaret O'Brien, featuring sculptural installation work. The exhibition will open at 6pm on August 11. The same evening, Margaret O'Brien in collaboration with two contemporary dancers will present Be-ing, a free performance in Nuns Island Theatre.
Margaret O'Brien works with installation and sculpture using a variety of materials and methodologies including electrical currents, live sound, light, moving image and kinetics. Her approach is not prescriptive, and involves an experimental use of materials that disturb a pre-existing or familiar relationship to the object, for example chimney brushes, copper piping and neon tubing. With strong sensitivities to gallery site and context, O'Brien develops immersive installations as a means of connecting materially, physically and psychologically to a space, whilst challenging passive modes of viewing in the audience. O'Brien draws on the physical and psychological relationship of the viewer to the environment and manipulates the psyche in an immediate, involuntary response to the work.
On Friday 11 August Margaret O'Brien will present Be-ing, a free live dance performance with Eve Rogers and Elizabeth Clarke that marks a new departure in her practice. The 6 minute performance will run at 6.45pm and 7.45pm. Through repetition and the reflexive structure of Be-ing, the piece explores philosophical ideas of time, space and self, using flash lighting and the movement of dance. The work produces after-images on the retina of the viewer that are equally as present and compelling as the brief moments the live scene is illuminated and perceived. This production was supported by the IMMA Residency Programme 2016 – 2017.
Untitled (Glitch)is one of the pieces exhibited for Through A Glass Darkly, and was made in 2016 and installed at Rua Red, Tallaght, Dublin.The piece contains light explosions and live sound, as well live electrical filaments (Nichrome wire). It was recently acquired by the Arts Council.
In this piece the two fluorescent lights keep trying to ignite but cannot, and explode with the buildup of electricity. The sound evident is the sound of this electrical discharge. The lights are not controlled by any mechanical or digital device and so are reacting in a live and sporadic manner to their actual set up. Using Arduino, a digital interface, the live sound that the lights produce is harnessed to power on and off super 8 projector and the electrical filaments.The live nature of the work is crucial here, as the malfunctioning lights are the operating device for the other elements and so present as very real possibility of breakdown for the entire piece, a critical space which O'Brien explores through her work.
Another piece displayed is This isn't it, which explores an approach to art making that develops relationships ​between research, practice and outcomes with a view to failure as a critical space the artist occupies in these activities. The work develops from a place of unknowing that is integral to the artist's research and practice. It does not seek to know through its outcomes, but to deliver a sense of this critical space of failure through the fundamentals of installation, whereby the whole is greater than the sum of its parts.
The installation This isn't it is constructed from various individual but interrelated components: a sound piece, Super 8 film, neon text, and an electrical heating element. The sound piece is composed of an irregular tempo and pitch that does not support any physiological harmony for the viewer – it does not allow an involuntary and bodily 'falling' into the rhythm. This composition draws on three notes of a particular score in the original film Willie Wonka and the Chocolate Factory (1971) and through repetition, tempo and pitch, builds a restless anxiety into the work. A super 8 film piece and neon text are triggered on and off erratically in relation to different structural aspects of the track. These are independent of one another and likewise, do not follow a regular rhythm. The film documents a struggle to perform both inside and outside the studio space. It was shot whilst on residency at the Centre Culturel Irlandais in Paris in 2013. The neon signifies moments of clarity within the creative process, realizations attached to intention and manifestation that emerge from the muddy space of unknowing. An electrical element also operates in response to the audio, pulsing intense and immediate heat intermittently and introducing a degree of volatility to the climatic conditions of the space.
The precarious nature of many of Margaret O'Brien's work presents a real and intentional risk of failure or breakdown, situating them in an insecure and uncertain space through their very manufacture. Here, she is interested in the in-between-ness of things: slippages of time, language or understanding between one moment and another, between one person and another; and reflexivity and the indeterminate nature of psychological and emotional experiences. Within this, the nature of art as an experience that is changing and unfixed rather than finite and permanent is also explored.
Margaret O'Brien is a Dublin based artist. She has exhibited in RUA RED, MART, West Cork Arts Centre and nag. Margaret has completed residencies in IMMA, Centre Culturel Irlandais, Paris and HIAP & TBG+S International Artist Residency Award, Helsinki, Finland. She is also a Lecturer in NCAD Dublin. Margaret was awarded a BA in Fine Art from Limerick School of Art and Design, MFA from Slade School London and an M.Phil from Trinity College Dublin. She is currently doing PhD. research in Trinity College Dublin.
Friday 11 August – Saturday 9 September 2017
47 Dominick Street
Galway
Telephone: + 353 91 565 886
Opening hours / start times:
Monday 10:00 - 17:30
Tuesday 10:00 - 17:30
Wednesday 10:00 - 17:30
Thursday 10:00 - 17:30
Friday 10:00 - 17:00
Saturday 10:00 - 14:00
Admission / price: Free