Margaret Egan: The Breath of Sound and Earth
Friday 8 February – Saturday 2 March 2019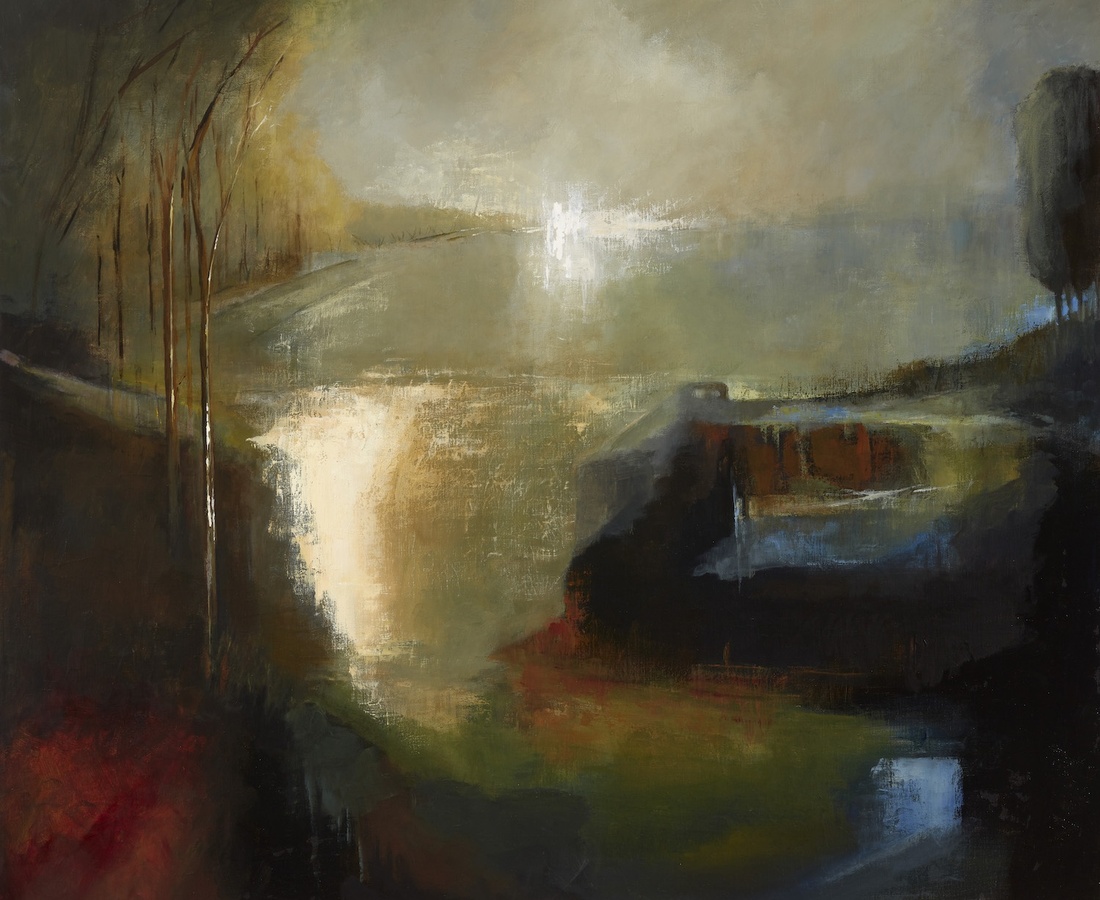 Solomon Fine Art is delighted to host an exhibition of new paintings by the established and hugely successful artist Margaret Egan.
"Her skill is consistent with an unerring ability to catch the fleeting moment in time and place.
 A note once played can never be retrieved, a gesture once made never withdrawn, and the chord once struck will continue to resonate" – Gerry Walker
In her forthcoming exhibition Margaret Egan strives to express the subtle yet influential sounds and sensations of the world. Margaret has captured 'The Breath of Sound and Earth'for this exhibition with a collection of her distinctive figurative works and stunningly atmospheric landscapes based on her interpretation of contemporary urban and rural life. Her figures are abstracted with finely drawn outline and always quiet in mood. She uses balanced, harmonious tones of both strong and muted colours to represent these graceful, contemplative figures set in backdrops as evocative and atmospheric as the figures within them. Margaret Egan's landscapes are bold and energetic and full of feeling with grey skies and vibrantly coloured foregrounds; using loose, blended brushstroke she captures the wild nature of the Irish landscape.
Born in New Ross, Co. Wexford, Margaret now lives and works in the seaside town of Monkstown, Dublin. After qualifying as a draftswoman, she studied under the famous Breton sculptor, Yann Renard Goulet, RHA and then continued her education at the National College of Art in Dublin.
Margaret has been exhibiting her work for decades, both nationally and internationally to significant critical acclaim. Her work has been shown in Ireland, England, Wales, France, Portugal, New York and Singaporein both public and private collectionsincluding in Deloitte Ireland, the National Concert Hall and The Abbey Theatre Dublin. The National Concert Hall in Dublin very recently unveiled a large commission by Margaret Egan for its Kevin Barry Recital Room. The Movement of Sound depicts an elegant orchestra of standing string players in a classical setting, its graceful, swaying figures depicted in bright harmonious tones.
Image: Margaret Egan: Lake, Dromore Woods, Killarney, acrylic on canvas, 100 x 111cm
Friday 8 February – Saturday 2 March 2019
Balfe Street, Dublin 2
Telephone: +353 86 814 2380
Opening hours / start times:
Tuesday 10:00 - 17:30
Wednesday 10:00 - 17:30
Thursday 10:00 - 17:30
Friday 10:00 - 17:30
Saturday 11:00 - 16:00
Admission / price: Free