Margaret Egan: New Paintings & Sculpture
Friday 7 February – Wednesday 19 March 2014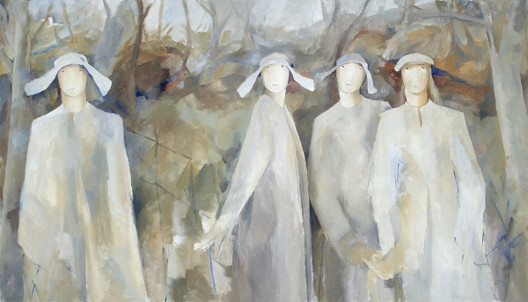 Opening Reception Thursday 6 February 6 – 8pm
Solomon Fine Art is delighted to host a solo exhibition of new paintings & sculpture by Margaret Egan.
Based near Dun Laoghaire in County Dublin, Egan is gifted in both the art of painting and sculpture. Her studio overlooks the sea, so naturally the ocean is a huge inspiration. Her seascapes are atmospheric and moody with dark grey skies and angry seas, perfectly capturing the wild nature of the Irish coast. Other landscape subjects in this show include Inish Mean in Donegal, Caherdaniel in Co. Kerry and the stunning autumnal hues of the Wicklow landscape, brimming with vibrant colour and energy. Also included in this exhibition are her distinct figurative paintings and sculptures in bronze. In contrast to the vivid landscapes, these poetic figures are often more subdued in colour and have an enigmatic air of mystery about them.
Egan has been showing with the Solomon since 2006 and has previously exhibited in Ireland, the UK, United States, France and Singapore. She studied at the National College of Art & Design, Dublin from 1963 to 1967 and later was assistant for 10 years to the renowned Breton sculptor Professor Yann Goulet RHA, during which time she simultaneously developed her own style of work.
"The work in this show continues to explore the conflicts of nature and people, both so very different yet so intertwined, their roots creeping through layers of history. I want to reach down and explore that, with all its pain, beauty and strength."
– Margaret Egan, Jan 2014
Friday 7 February – Wednesday 19 March 2014
Balfe Street
Dublin 2
Telephone: +353 86 814 2380
Opening hours / start times:
Tuesday 10:00 - 17:30
Wednesday 10:00 - 17:30
Thursday 10:00 - 17:30
Friday 10:00 - 17:30
Saturday 11:00 - 16:00
Admission / price: Free