Margaret Corcoran: Return to Cythera
Friday 25 April – Saturday 7 June 2014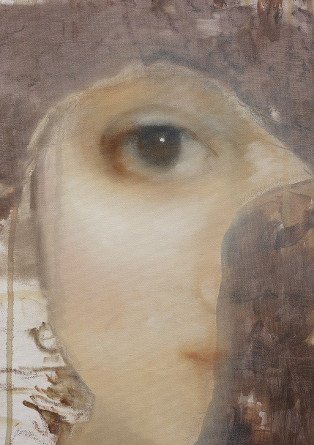 Opening Reception Thursday 24 June at 7:30pm
Jimmy Deenihan T.D. Minister for Arts, Heritage and the Gaeltacht will officially launch Margaret Corcoran's new exhibition Return to Cythera at Solstice Arts Centre, Navan, Co. Meath.
Through referencing 17th-19th century paintings, Margaret Corcoran weaves a "pattern map" to highlight both current and universal themes. Her painting moves from a pre-occupation with emphatic traditional methodology to an increasing freedom, where the significance of her practice allows the paint and process "to speak for itself".
The title Return to Cythera, is a reference to Watteau's The Embarkation for Cythera whilst equally conjuring historical and mythical expeditionary sensibilities of both the Age of Discovery and the Odyssey. In tandem, if not more prevalent throughout the selected work, is the concept of transformation. The metamorphosis of Daphne – a nymph of Greek mythology who is transformed into a laurel tree to escape the advances of the god Apollo, is objectively referenced in drawing and paintings. The majority of Corcoran's works within the exhibition are multiple layered transfigurations or insertions from works by artists such as Claude Lorrain, Ingres and Wenzel. Corcoran also revisits a number of her own pieces such as The Castle (2008) and Persian Adam & Eve (2012), that are furthermore transformative in scale and execution.
As Daphne is demonstrative of an environmental intelligence, Corcoran's wooded landscapes are both theatrical space and a breathing ensemble of supernatural power. Forests act as a laboratory of artist inquiry, producing multiples solutions and pathways through a universe of infinite time and probabilities.
Margaret Corcoran is a graduate of NCAD and holds a Masters in Fine Art Painting. Her work features in both public and private collections and is represented by Kevin Kavanagh Gallery, Dublin and John Martin Gallery, Mayfair and Chelsea, London.
GALLERY HOURS
Tuesday- Saturday, 11am-4pm. Gallery admission is free of charge
GALLERY EVENTS
Wednesday 7 May, 7.30pm: In Conversation with Margaret Corcoran
With Dr. Yvonne Scott, Director, Triarc (Trinity College Irish Art Research Centre ) TCD
Tickets: €2
Tuesday 22 May, 7.30pm: Eidola
A programme of early & contemporary music in correlation to the exhibitionEamon Sweeney (baroque guitar), Anita Verdes (violin) Malachy Robinson (double bass/violone). Tickets: €10
Events must be pre-booked through Box Office as seating is strictly limited.For information & event booking visit www.solsticeartscentre.com or contact Box Office on +353 (0)46 909 2300.
Image: Margaret Corcoran: The Seeing (detail), 2014, oil on linen, 320cm X 213cm
Friday 25 April – Saturday 7 June 2014
Navan, County Meath
Telephone: +353 46 9092300
Opening hours / start times:
Tuesday 11:00 - 16:00
Wednesday 11:00 - 16:00
Thursday 11:00 - 16:00
Friday 11:00 - 16:00
Saturday 11:00 - 16:00
Admission / price: Free