Makiko Nakamura: Journeys
Friday 2 October – Saturday 17 October 2015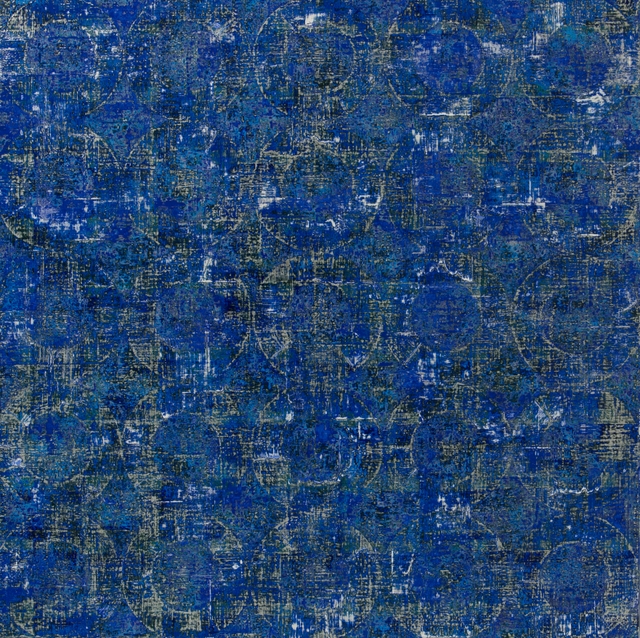 Taylor Galleries is proud to present Journeys, an exhibition of new and recent work by Makiko Nakamura that runs from 2 to 17 October 2015. This is Nakamura's second solo exhibition with the gallery, following on from her successful 2011 show PASSAGE.
'Time present and time past
Are both perhaps present in time future,
And time future contained in time past.'
– T.S. Eliot, 'Burnt Norton' from 'Four Quartets'
Makiko Nakamura's paintings are made through a painstaking process of addition and subtraction: coats of pigment are successively applied and partially erased. Through each picture's shimmering, iridescent skin we catch glimpses of the many layers that contribute to the final, rich harmony of the finished work. A sense of time, remembered, experienced, anticipated, is further conveyed by a rhythmic, underlying grid structure, usually based on the square and more recently on the circle. The traveller arrives at the point where her journey began and
'…the light is still
At the still point of the turning world.'
– Aidan Dunne.
Born near Kyoto, Japan in 1951, Makiko Nakamura has lived and worked between Ireland and her home country since 1999. She has exhibited extensively in Ireland, Britain, the USA, Japan and France, and completed numerous residencies, most recently at the Tyrone Guthrie Centre, Annaghmakerrig and Kyoto Art Centre, Japan. Her work is represented in numerous private collections in Eurpoe, the USA and Japan as well as the public collections of the Irish Museum of Modern Art (IMMA), the Gate Theatre, Wexford Opera House, State Art Collection / OPW, and Boyle Civic Collection.
Friday 2 October – Saturday 17 October 2015
16 Kildare Street, Dublin 2
Telephone: +353 1 676 6055
Opening hours / start times:
Monday 10:30 - 17:30
Tuesday 10:30 - 17:30
Wednesday 10:30 - 17:30
Thursday 10:30 - 17:30
Friday 10:30 - 17:30
Saturday 11:00 - 15:00
Admission / price: Free