Makiko Nakamura: Dublin Moon
Friday 15 September – Saturday 7 October 2017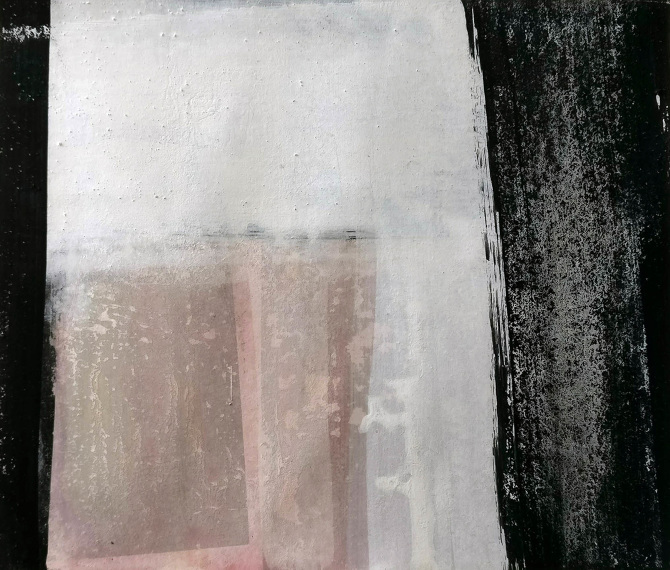 Taylor Galleries is proud to present Dublin Moon, an exhibition of new work by Irish-Japanese painter Makiko Nakamura. The exhibition is her third with the gallery.
Based between Dublin and Kyoto, Nakamura presents a suite of abstract mixed media works on paper using Japanese pigments and metal leaf. Deviating somewhat from the strict underlying framework of squres and rectangular forms that dominate her larger paintings on canvas, these smaller works are freer and more textured, with shimmering metal leaf and pearlescent pastel paint contrasting with velvety matte black and brightly-coloured pigments. Many of the paintings are named after places in Dublin which hold some personal significance for the artist – areas of the city she has lived and worked in, and the river that flows through it, with the silvery Dublin moon of the title recurring through circular motifs.
Born near Kyoto, Japan in 1951, Makiko Nakamura has lived and worked between Ireland and her native Japan since 1999. She has exhibited extensively in Ireland, Britain, the USA, Japan and France, and completed numerous residencies. Her work is represented in private collections in Europe, America and Japan as well as the public collections of the Irish Museum of Modern Art (IMMA), the Gate Theatre, Wexford Opera House, State Art Collection / OPW, and Boyle Civic Collection.
Friday 15 September – Saturday 7 October 2017
16 Kildare Street, Dublin 2
Telephone: +353 1 676 6055
Opening hours / start times:
Monday 10:30 - 17:30
Tuesday 10:30 - 17:30
Wednesday 10:30 - 17:30
Thursday 10:30 - 17:30
Friday 10:30 - 17:30
Saturday 11:00 - 15:00
Admission / price: Free