Make the Eighties the Decade of Endeavor
from 8 June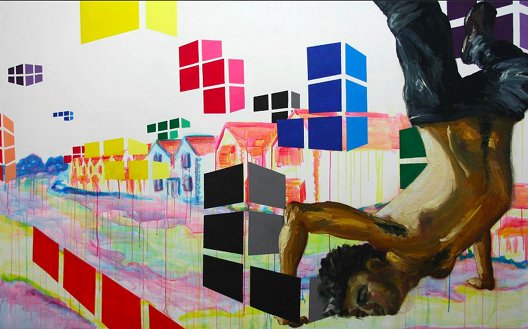 Opening Reception Thursday 7 June, 7-9pm
This exhibition presents three artists – Lisa O'Donnell, Shane Finan and Amanda Jane Graham – whose work individually reflects on personal recollection from childhood and certain historical, social, economic and geographical factors that contribute to the current shape of society, most particularly in Ireland. The diverse bodies of work offer poignant and nostalgic musings that investigate the cyclical nature of society, culture, memory and environmental disconnect.
Lisa O'Donnell uses stills collected from archived news footage of 1980s Ireland as the starting point for her new body of work. They represent for the artist the tension and issues that occurred in Ireland at that time and are now repeating themselves somewhat in the present day – deep recession, general public dissatisfaction and empty political promise. Her process reflects this act of repetition, using stills that have been transferred from analogue to digital to eventually re-appropriate them in her paintings, adding layers of distance between the viewer and the event, place or person depicted. O'Donnell's use of imagery is deliberately ambiguous and points towards enigmatic scenes and a sense of allusion, using non-figurative colour study paintings as a bridging element between the juxtapositions. The artist also presents a set of Polaroid photographs taken in an area of Galway that has seen little change since the late seventies. Many of the locations are now unoccupied and have been left to disintegrate, symobolising both the past and the existing economic climate in Ireland. The Polaroid is a cultural artifact that offers a filter of images that aesthetically as well as metaphorically reminds O'Donnell of a different time.
Shane Finan's practice investigates human interaction with place and this recent body of work responds to the idea of insulation and islands, reflecting on the concept of islands such as Ireland as both connected and separated forms, clustering as archipelagos or spread apart as distant individual beings. The works are drawn from a study of island life in both Ireland and Iceland and use landscape imagery from both countries. Finan draws on social and political contrasts between island nations, analysing how histories and social situations compare over time. He uses the idea of floating, falling, or awkwardly suspended forms to build a picture of this separation and isolation. The figure reflects the notion of the island and how individuals can become segregated from society or amalgamated into it. The works are also a reaction to the environment in which they are created and consider elements of behavior that are influenced by situation and social terrain.
Amanda Jane Graham's practice is a trajectory of self reflection, personal narrative, and memoirs where the viewer completes the experience. The piece presented for this exhibition – I'll never forget that fucking itchy hat – recollects hand made clothing from Graham's childhood as a result of delving into dreams and memory. Through recollection Graham extracts the labourious, industrious and incessant making of clothing by her mother, when sewing machines and knitting needles were part of everyday life. The coarsest hard wearing pure wool was used to make clothes that provided longevity and warmth but were extremely painful and itchy to wear. The work is a fond and playful reflection of this personal era that invokes humour and transports the viewer back to their own childhood with a broadly identifiable language and an ability to wholly commuincate home life and family histories. This sculptural installation engages the emotional inner experience of the audience and projects the thoughts and memories of the artist into the mind of the spectator.
Image: Shane Finan
from 8 June
25-27 Donnybrook Roard
Dublin 4
Telephone: +353 1 283 9469
Opening hours / start times:
Wednesday 12:00 - 18:00
Thursday 12:00 - 18:00
Friday 12:00 - 18:00
Saturday 12:00 - 16:00
Admission / price: Free