Mairead O'hEocha: whisper concrete
Saturday 19 March – Sunday 1 May 2011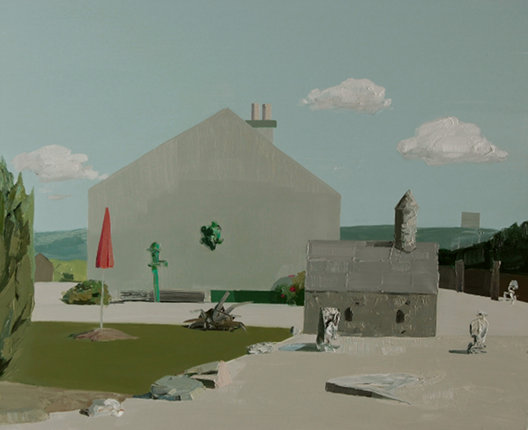 The Butler Gallery is delighted to present an exhibition by Dublin based painter Mairead O'hEocha.
This exhibition is comprised of a selection of works made by the artist over the last five years. O'hEocha's work follows a timeline where castles, fields, garages and housing estates map the layered histories of the South-East of Ireland. The new motorways of the region now link everywhere with the European mainframe and have, she says, dramatically reduced the traffic of country roads. For her, the rural rhythms of the backroads seem to be retreating in time and in tandem with the acceleration of nearby motorway traffic.
This temporal landscape allows O'hEocha to pursue her continued interest in 'the specifics of place'. Here the parallel timeframes of these roads afford real sites for questioning what is unique and what is universal. These works present a focused clarity and precision in their finish and they are as distilled as they are densely layered. O'hEocha eloquently mimics the variances of our Irish skies; from the stillness of an unyielding Winter to the unpredictable movement of cumulus clouds.
The choice of site for the paintings is deliberate and considered, evoking the everyday. O'hEocha understands 'local' to be an increasingly abstract term and creates images that convey human feelings of longing and belonging. These paintings though modestly-scaled are self possessed and confidently indicate an insightful and thought provoking vision. There are few contemporary Irish painters that demand attention in the way that an O'hEocha painting does.
Mairead O'hEocha received a BA from the National College of Art & Design, Dublin in 2000 and an MA from Goldsmiths' College, University of London in 2004. She has exhibited nationally and internationally and was a recipient of an Arts Council Visual Art Award in 2009. Most recently, she exhibited in Armory, New York, a two-person presentation by mother's tankstation gallery with Nina Canell. Solo exhibitions include Co.Summer, Angles Gallery, Los Angeles, 2008; Home Rules, mother's tankstation, 2007; Group shows include: Hudson Franklin, New York, 2008; Visual Fictions, Fenton Gallery, Cork, 2007; Utopias, Eigse, Carlow, 2006. She is an assistant lecturer in Visual Art at Wexford Campus School of Art, Carlow IT. Her work will next be seen in a related exhibition at The Douglas Hyde Gallery this June 2011.
The artist is represented by mother's tankstation www.mothertankstation.com
whisper concrete, the title of this exhibition, describes a type of concrete that is specifically designed to absorb traffic noise.
Many thanks are extended to the private and public lenders to this exhibition. With grateful thanks to the Arts Council for essential annual funding and to the OPW, FÁS, The Heritage Council and Kilkenny Local Authorities for additional assistance.
Education Events
Artist In-conversation Mairead O'hEocha & Chris Clarke
Friday 25 March, 1-2pm
Booking essential (see contact details to right)
Image: Mairéad O hEocha: House with Miniature Round Tower, Co. Carlow, oil on board, 40 x 49 cm, 2008; image courtesy the artist and mother's tankstation
Saturday 19 March – Sunday 1 May 2011
Evans' Home
John's Quay, Kilkenny
Telephone: +353 56 7761106
Admission / price: Free
Closed 13:00 - 14:00 until March.