Magnhild Opdøl: point of no return
Saturday 15 June – Sunday 28 July 2013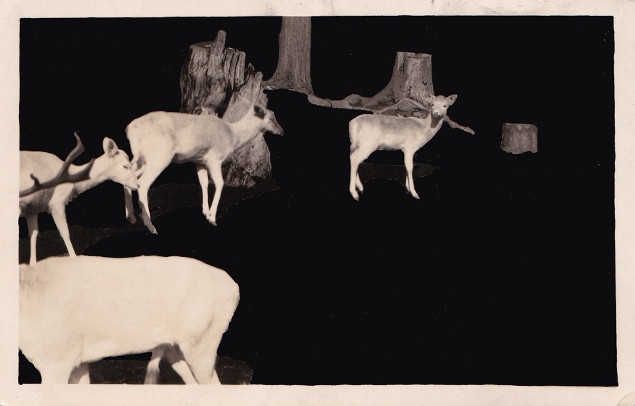 Opening Reception Saturday 15 June, 3:30 – 5:30pm
The Butler Gallery is pleased to present an exhibition of new work by Norwegian artist Magnhild Opdøl.
Opdøl's practice includes drawing, sculpture, photography and installation. The title of the show, point of no return relates to the point in a story when the plot has developed to the stage where you can only move forward with what you have. It is a fascination with things not being reversible, such as the depletion of our earth's natural resources, the extinction of species of animals, and the strangeness of a human race that keeps on ravaging the planet, while knowing they are the authors of their own destruction. Opdøl 'stirs' stories in us much more so than telling us stories, her works providing more a nudge in a direction rather than a narrative.
Opdøl's references are quirky and diverse – from Walt Disney's Bambi and Pinocchio to David Lynch's cult TV series, Twin Peaks. In this exhibition, Opdøl makes a departure from the poetics of the dead and her customary use of taxidermy and detailed drawings of animals. Here, she alters a series of vintage postcards of deer, and by isolating the image of the deer in postcards that change from day to night, the same story seems to be repeated over and over. These intimate works beautifully convey the stillness and expectancy of the deer and the silence of the woods. It is as if they are preparing to leave nature behind to enter the darkness of an unknown future – a point of no return. The deer represents all animals to Magnhild Opdøl. It embodies the cuteness of Bambi, frozen in time in polished bronze, it can be used as a trophy, it provides food and clothing, it can be seen as wild or tame, it is elegant, and it can grow from a wobbly calf to a monumental stag.
Dessert is serious business in Twin Peaks where Opdøl highlights the donut, the standard fare of the Twin Peaks' police department. Donuts and donut boxes, in this case pink boxes, represents consumerism at its most disposable. Opdøl enjoys the idea of making trophies out of trash, so here we will see 54 bronze donuts displayed including a minimalist tower of American pink donut boxes, which the artist will make and stack during a week-long installation at the Butler Gallery.
Magnhild Opdøl is an enormously skilful artist that makes work that is deeply felt and thought- provoking. This exhibition, which is full of new ideas and ways of working, is humorous, dark and beautiful. The work offers us a glimpse of a moment in time just passed, or of a stillness caught in time. These new works draw us into a storytelling space, where the story has been frozen for us to take a walk around to explore and remember.
Magnhild Opdøl was born in Sunndalsøra, Norway in 1980. She lives and works in Dublin and Ålvundeid, Norway. Opdøl received a B.A. in Fine Art in 2004 and an MA in Fine Art Painting in 2007 from the National College of Art and Design, Dublin. She has exhibited widely both in Ireland and internationally and has been the recipient of many important awards and residencies. Magnhild Opdøl was the first recipient of The Tony O'Malley Residency in Callan, Kilkenny. Solo exhibitions follow at Akershus Kunstsenter, Norway this August and The West Cork Arts Centre in November 2013.
Meet the Artist Thursday 27 June at 1pm
With grateful thanks to the Arts Council for essential annual funding and to the OPW, FÁS and Kilkenny Local Authorities for additional assistance.
Image: Magnhild Opdøl: from the series 'We're afraid to go home in the dark', black marker on card, 2013
Saturday 15 June – Sunday 28 July 2013
Kilkenny Castle
Kilkenny
Telephone: +353 56 7761106
Admission / price: Free
Closed 13:00 - 14:00 until March.