Maggie Madden: Site Line
Friday 18 May – Tuesday 31 July 2012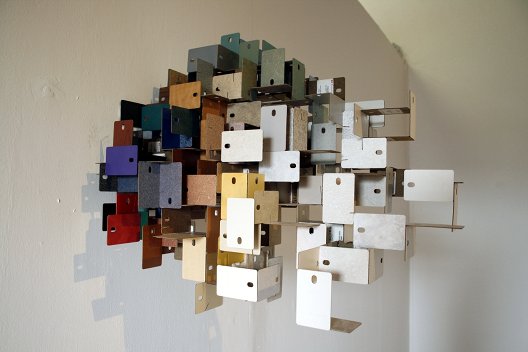 Opening Reception Thursday 17 May 6-8pm
In Maggie Madden's recent work, a diverse array of collected materials are crafted into fragile sculptural formations with geometric affinities. The work is suggestive of architectural structures, but also reflects on our spatial encounters in both the urban landscape and the natural world. Her detailed constructions have the potential for endless expansion; to grow outward from densely ordered space and continue boundlessly. Madden's practice explores a combination of found, industrial and natural objects.
She deliberately juxtaposes found objects with materials that have been slowly and precisely, laboured over. Many of the materials are related to construction – mass produced industrial matter, which become handcrafted into new formations, exposing the beauty in both crafted and found objects and materials.
In some of the works there are open ended references to our networked world, communication and transport systems, the infrastructures of contemporary life in modern cities; eloquently illustrated in several of her miniature representations. Madden's linear structures made using fibre optic strands form three dimensional drawings in space, delicately balanced and at times barely visible.
During the process of construction the physical limits of the materials are taken in to account, as there is an attempt made at rendering some materials to appear almost weightless. Tension is created as the sculptural formations often have a fragility that teeters on the brink of collapse. Ideas of gravity and balance feature prominently in Madden's practice. The manipulation and potential for transformation of materials is at the core of her work.
The myriad of carefully selected objects and materials that Madden's practice engages with are re-contextualised from their primary use, positioned in unexpected configurations. The initial components undergo a metamorphosis, evolving to become complex, technically accomplished artworks, the constituent parts completely transformed from their original purpose. This testing of new possibilities through careful manipulation addresses Madden's curiosity, which arises throughout the process of making.
Biography
B.1976. Originally from Connemara, Co Galway, Madden is currently living and working in Dublin. She completed a Masters in Fine Art at NCAD in 2006 and received a BA in Fine Art Painting from Limerick School of Art and Design in 1998.
In 2011 she received a Visual Art bursary from the Arts Council and the Elizabeth Fitzpatrick award from the RHA, and also participated on the Artist in Residence program at Atlantic Centre for the Arts, USA. 2010 saw her first solo exhibition Fading Not Ending at Roscommon Arts Centre. Recent group exhibitions include Pallas Periodical Review, Pallas Projects, Dublin, Constellations, Éigse, Visual Carlow, 181st Annual Exhibition, RHA.
In 2008 Madden was invited to participate in Triangle Arts International Workshop, a two week studio session which culminated in an Open Studio exhibition in DUMBO, New York.
Friday 18 May – Tuesday 31 July 2012
Foley Street, Dublin 1
Telephone: +353 1 222 7850
Opening hours / start times:
Monday to Friday 10:00am – 6:00pm. We are currently closed at the weekend. Bookings are not necessary.
Admission / price: Free