Lucian's Neighbours
Sunday 24 June – Sunday 19 August 2018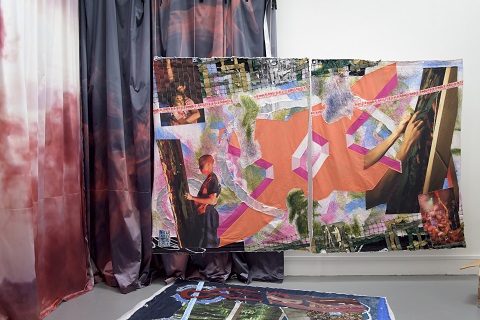 The Freud Project Residency Programme • Laura Fitzgerald, Richard John Jones, and Bridget O'Gorman & Sue Rainsford
 
This exhibition presents a new series of works and research developed in response to the IMMA Collection: Freud Project, 2016 – 2021 – a five-year project developed around the loan of 52 works by artist Lucian Freud. In 2017 Laura Fitzgerald, Richard John Jones, Bridget O'Gorman & Sue Rainsford were selected from the IMMA Residency Programme Open Call to live and work onsite responding to Freud at IMMA. Like any symbiotic relationship the resulting artworks produced by this creative community are complex, encompassing multiple viewpoints and modes of expression, living with, influenced by and occasionally opposed to their famous neighbour.
By presenting the contemporary voices of these responding residents Lucian's Neighbours probes the relevance of Freud to current social and cultural discussions, and in so doing captures what can be revealed through the practice of one artist observing another.
Associated Events

IMMA Residency Programme | MIDSUMMER OPEN STUDIOS & EXHIBITION 'Lucian's Neighbours'
24 June 2018 / 3 – 6pm
Midsummer Open Studios & Exhibition Lucian's Neighbours welcomes visitors to the IMMA Residency Programme. A chance to take a look around the residency, meet resident artists and explore their ongoing work and research in both the studio spaces and in The Project Spaces. Learn more.
A number of additional events will accompany this exhibition. Join the IMMA Talks Mailing List to have event notifications and announcements sent to your email.
Exhibition Resources
Resources and additional materials for this exhibition will be posted here when available.
Learn more about the IMMA Residency Programme
Exhibition Supported By
IMMA Collection: Freud Project is made possible through the visionary support of the Freud Circle listed below, and those donors that wish to remain anonymous.
Image: Documentation from Freud Resident Richard John Jones' studio, IMMA's Residency Programme. Photo by Louis Haugh
Sunday 24 June – Sunday 19 August 2018
Royal Hospital, Kilmainham
Dublin 8
Telephone: +353 1 612 9900
Opening hours / start times:
Tuesday 11:30 - 17:30
Wednesday 11:30 - 17:30
Thursday 11:30 - 17:30
Friday 11:30 - 17:30
Saturday 10:00 - 17:30
Sunday 12:00 - 17:30
Admission / price: Free
Bank Holidays open 12:00 – 17:30.